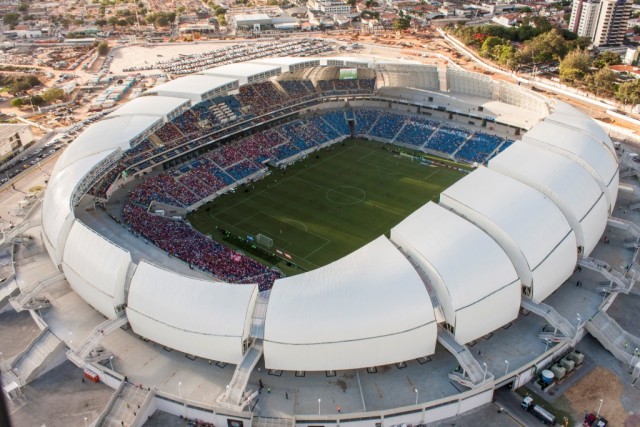 The United States' World Cup journey will begin in Natal as the Stars and Stripes take on Ghana at Arena das Dunas on Monday, June 16 (3:00 PM Pacific). Both teams are coming off of big send-off wins heading into their group stage clash. Ghana defeated fellow World Cup side South Korea 4-0 after forward Jordan Ayew tallied a hat trick. The US gained a valuable 2-1 win against African champions Nigeria before leaving for Sao Paolo.
USA Team News:
June 26, 2010 is undoubtedly on the minds of the US players, even if they won't admit it. Many members of this American squad are newcomers, but goalie Tim Howard and captain Clint Dempsey are just two of whom can recall their defeat at the hands of the Black Stars four years ago. It is essential for Howard and Dempsey in particular to keep the team focused on the goal at hand.
Many aspects of this matchup seem familiar, but for the United States there's a new, experienced coach in charge. In addition, Landon Donovan won't be on the pitch when a goal is needed or the team needs a morale boost.
Without a player like Donovan, it is necessary to have a strong presence in the midfield. That is what the USA have in Michael Bradley. The former Roma, turned Toronto FC man is arguably the best player dressing in Red, White, and Blue. He has the tools to create for others, while also possessing the quality to score goals when needed.
It will ultimately be the US' back line that will either propel them out of the group, or plummet to a zero or one point showing in their three matches. Left back Demarcus Beasley is appearing in his fourth World Cup, but the other three predicted starting defenders (Besler, Cameron, Johnson) have no experience in this tournament. Beasley's experience is essential in helping his fellow defenders adjust to the fast-paced style that is international football.
Ghana Team News:
Although the Ghanaian team taking the field in Brazil features quality, experienced players, they won't have an entire continent supporting them like in South Africa. The Black Stars will rely on their knowledge from the previous two World Cups to help assist them in defeating the US and ultimately advancing out of Group G.
Ghana are led by AC Milan midfielder Kevin-Prince Boateng, who handles the responsibility of creating opportunities for this attacking-minded team. In addition to Boateng, there are quality players that provide threats because of their speed and technical ability.
Marsielle's Andre and Jordan Ayew will provide some of that speed out on the flanks. The key man in the operation though for Ghana will be striker Asamoah Gyan. The 28 year old will be vital if the Black Stars want to get back to the quarterfinals, or even out of this group for that matter. It was his missed penalty back in 2010 that prevented Ghana from going on to the semifinals.
Starting Lineups:
USA (Projected Starting XI):
4-2-3-1 Formation Howard, Johnson, Cameron, Besler, Beasley, Beckerman, Jones, Dempsey, Bradley, Zusi, Altidore
Ghana (Projected Starting XI): 
4-2-3-1 Formation Dauda, Afful, Mensah, Boye, Opare, Muntari, Essien, J. Ayew, Boateng, A. Ayew, Gyan
Key Matchup: Jozy Altidore vs. Ghana Centerbacks (Boye & Mensah)
USA vs Ghana Prediction 
Given the recent history between these two teams, it's safe to say that this will be one of the most intriguing group stage matches.
The past two World Cups have seen results favoring Ghana in this fixture and US manager Jurgen Klinsmann has stated since last December that if his team want to overcome the Group of Death, then they will need three points against Ghana.
I believe that the United States will prove that they can contend when facing adversity. It will be yet another struggle for these teams to gain a result but in the end USA will defeat Ghana 2-1. 
USA vs Ghana Television Schedule
The USMNT vs Ghana match will be televised live on ESPN, Univision, and ESPN 3 (stream) at 6 PM EST (3 PM PST).