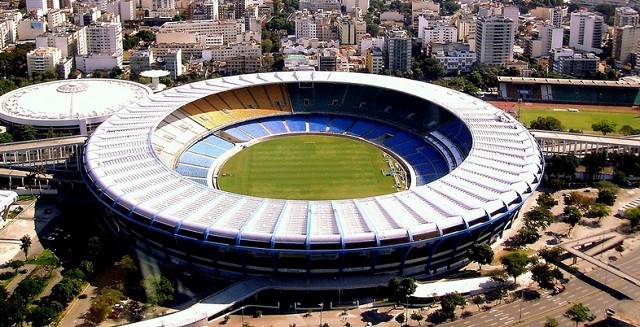 Argentina vs Bosnia and Herzegovina will take at Maracaná stadium in Rio de Janeiro on Sunday, June 15 (3:00 PM (PST), 4:00 PM (local time). Both teams share the Group F with Nigeria and Iran.
Argentina qualified to the World Cup after finishing in the first position in the CONMEBOL qualification, two points above Colombia.
They've been having good performances in the last years, as results confirm: they only lost one out of the last nineteen matches, against Uruguay in Montevideo in the last qualification game, when Argentina was already qualified. In particular, they defeated Bosnia and Herzegovina by 2-0 in a friendly match played in November 2013 in Miami.
For the Sunday game the main uncertainty is striker Gonzalo Higuain's fitness. He hasn't played since the Coppa Italia final on May 3 due to an ankle injury, and he's in doubt for the first match.
His replacement in the usual 4-3-3 scheme should be Ezequiel Lavezzi from Paris-Saint Germain, but manager Alejandro Sabella tested a 5-3-2 scheme in the last training session –the same that he used in the friendly against Bosnia–, and in that case the strikers would be Lionel Messi and Sergio Agüero.
Benfica defender Ezequiel Garay, who had got a muscle strain injury that didn't allow him to play the pre-World Cup friendlies, is now fit and spoke ahead of the Bosnia game: "We know the squad we have. We respect our opponents, there won't be any easy game, but we don't fear anyone."
On the other hand, Bosnia and Herzegovina qualified to the first World Cup in their history without playing a playoff match, since they finished on top of their group in UEFA qualifications with the same points than Greece but with better goal average.
The Zmajevi (the Dragons) won their last two matches (pre World-Cup friendlies) against two tough teams like Ivory Coast (2-1) and Mexico (1-0), both played in the United States.
They don't have as many players in top teams like Argentina, but they have a very respectable team with two main stars: Manchester City striker Edin Džeko, who won the Premier League on last season, and Roma midfielder Miralem Pjanić, who made a great season as he led his team to the second place of Serie A tournament behind Juventus.
Pjanić spoke to the press about the Sunday match: "We will be against one of the favorites in Argentina, but we have the expertise to challenge them. We do not fear anyone because we believe in our chances. Many of us have played in big European tournaments and know how to deal with certain situations."
Their manager also answered the press' questions, and when he was asked about man-marking Lionel Messi, the boss said: "It is a dilemma for me, but to sacrifice a player just to man-mark Messi, I don't think it would be good for us. We have a player who would be ideal for man-marking Messi – this player is [Muhamed] Besic – but this guy is so well prepared physically that it wouldn't be good for us to make him track Messi."
Argentina vs Bosnia and Herzegovina Prediction
In my opinion, this will be the toughest of the three group games for Argentina. Bosnia and Herzegovina have great players, and they can be very dangerous in dead balls. Nevertheless, Argentina are still favorites since they have great men in attack that anyone would fear, such as Messi, Agüero and Di María.
Argentina 2 – 0 Bosnia and Herzegovina
Argentina vs Bosnia and Herzegovina Television
The Argentina vs Bosnia and Herzegovina match will be televised in the USA on ESPN3 (stream) and Univision Deportes at 3:00 PM Pacific on Sunday.