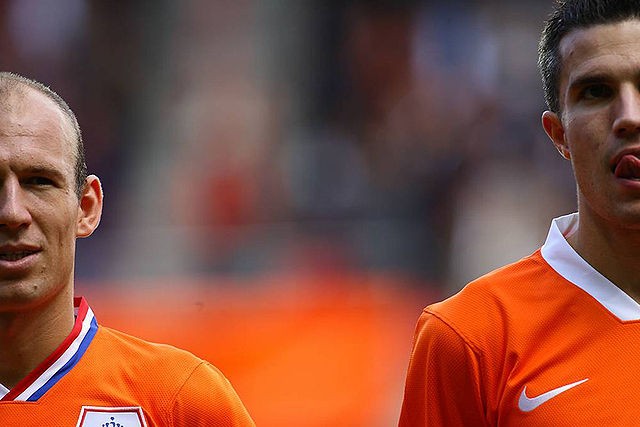 We should feel lucky that we get to revisit the previous World Cup final in the group stage. Four years seems short, but for the players and the fans, it feels like an eternity. Out of the two finalists, the Netherlands is definitely the team that has changed the most. Only seven players from the 2010 tournament returned to this year's final squad, those are: Vorm, Huntelaar, Kuyt, van Persie, Sneijder, Robben and de Jong. This could be considered a no-brainer, since the last four are key to the Dutch squad. On the other hand, Spain has made some changes, but the essence of this golden generation is very much present and its style of play hasn't been affected either. Because of this, if the Oranje hope to reach the knockout stage, they must avoid making mistakes, and that means not losing against Spain.
Retain the Five men in the Back
While controversial and not very easy on the eyes, Spain is the rival you want to pressure with five defenders. It's not because they have two or three strikers that need a lot of marking, but because their midfield line is overcrowded. This is where La Roja has their most creative assets and if they can't think, they will suffer. Annoying Xavi, Silva, Iniesta and Xabi Alonso will break the link between them and whoever's the starting striker. If it's Costa, they need one of those five defenders to be his shadow, as Diego is excellent at finding loopholes in the back of the opposite team.
Take Advantage of any Ball
It's going to be quite hard for the Dutch to dominate ball possession, as this quality is Spain's biggest philosophy. The Oranje need to be smart with the ball and create chances often in order to get ahead. With this in mind, de Guzmán or whoever takes his place if he can't make it to the first game needs to be creative. Nigel de Jong is more defensive and he will help cover Janmaat and/or Blind while they are helping the players up front.
The other midfielder must be the link between the back and the front, as Sneijder works as a number 10 and not a number 8. Having a good balance between defense and offense will be mainly a role for de Jong's partner. If the Dutch hope to seize opportunities, they need to think fast to make the best out of every ball they get.
Help Robben, Sneijder and van Persie
Janmaat and Blind need to be careful when leaving their positions, but while attacking they should always be an immediate resource for the three men on top. Spain's defense is very solid in the center, but can suffer from the sides as they tend to go up a lot. This is when the attackers need teammates to be there and take advantage of their qualities to create a goal opportunity. While Robben may be a little more selfish and may create his own opportunities, at some point he will need to rely on a pass. If Sneijder and van Persie aren't supported, it's going to be hard for the Dutch to score any goals against Spain.
Overall, there are more things that the Netherlands can do to defeat Spain, but these three need to be kept in mind in order to be successful. It's going to be a very different match from the one we saw four years, but it seems that the Dutch may be able to crack the code and beat Spain.