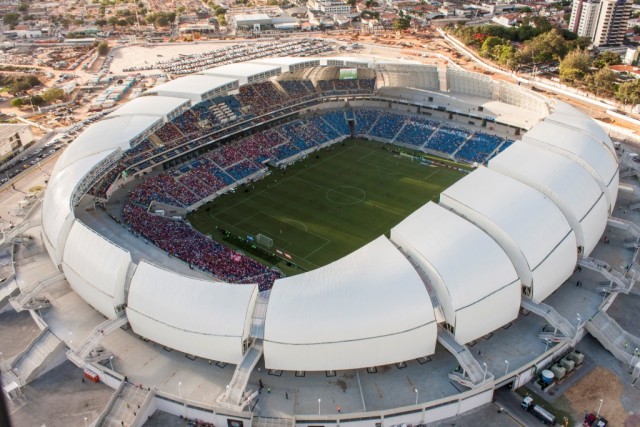 The Mexico vs Cameroon (Camerun) World Cup match on June 13, 2014 (9:00 AM Pacific) will be held at the Arena das Dunas in Natal, Brazil. Mexico and Cameroon will be facing each other on what will be just the second match of the 2014 World Cup. Both teams will be looking for a victory to secure much needed points in, arguably, one of the World Cup's most difficult groups. With El Tri usually finding a way to perform at a higher level in the World Cup, Cameroon will have to be cautious.
The Mexico National Team is currently coached by Miguel Herrera and he has recently shown determination to push Mexico for World Cup glory. Although there have been inconsistent performances from players such as Oribe Peralta and Javier Hernandez, Miguel Herrera already has a fixed lineup for the upcoming game. Recently, Herrera gave news that Guillermo Ochoa will be El Tri's starting goalkeeper in the World Cup. We can only wait to see if Mexico's players will once again rise to the occasion in the global tournament.
Click here for our analysis of Mexico's Possible Starting 11 vs Cameroon.
On the other side are The Indomitable Lions, Cameroon, who may prove to be stronger than what people previously thought. This past June 1, Cameroon faced Germany in an International Friendly and the game ended with a score of 2-2. Even though Cameroon managed to keep up with one of the World Cup favorites, they are not a consistent team. The Indomitable Lions will be captained by former Chelsea player, Samuel Eto'o.
Both teams have not been consistent in their recent pre-World Cup performances, but at the World Cup they may raise some eyebrows around the world.
Mexico vs Cameroon Prediction
The game may prove to be very entertaining to watch due to Cameroon's fast paced offense and Mexico's ability to counterattack that offense. Cameroon has more physically stronger and faster players than Mexico, but it may prove to not be enough. In an energetic, entertaining and close match Mexico will pull off a 2-1 victory. El Tri's ability to perform great at World Cups may prove to be too much for The Indomitable Lions.
Mexico vs Cameroon TV Schedule
The Mexico vs Cameroon 2014 World Cup match will be broadcast this Friday, June 13, on ESPN2 and Univision at 9:00 AM Pacific, and streamed online on ESPN 3.