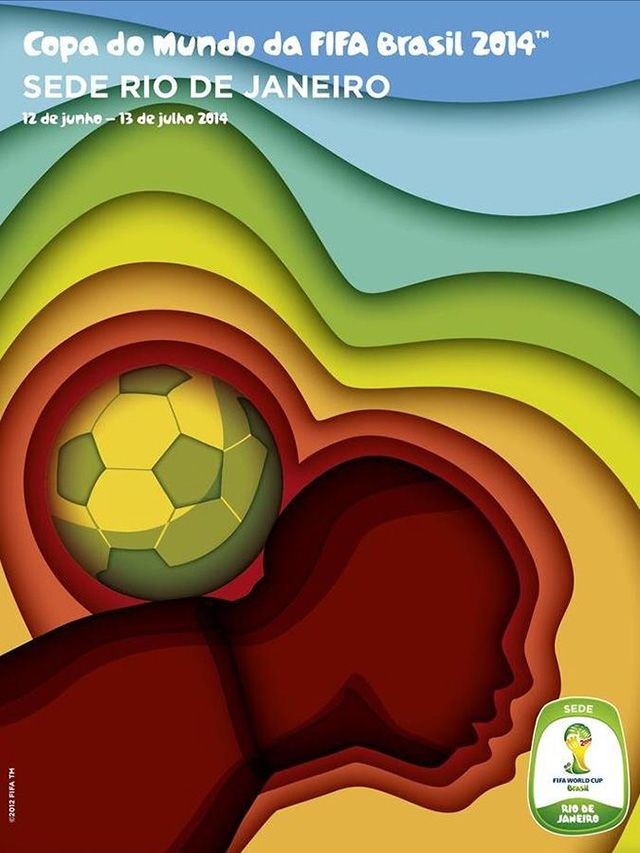 World Cups are all about storylines and this summer's tournament is certainly not short on them. While the true drama takes place during the knockout rounds, the group stage definitely has its fair share of enticing matchups. Luckily for us, some of the best matches in the group stage are fairly early on, meaning that we'll get an immediate dose of spectacular World Cup action.
1. Brazil v. Croatia (June 12th, 4PM EST)
The opening match of the 2014 FIFA World Cup is always going to be a must-watch, if for nothing other than the pomp and pageantry that surrounds the opening ceremonies. Come June 12th, the Arena de São Paolo will be the center of the footballing universe. On top of the sentiment of being the first game, this match has serious consequences for both sides.
Brazil will be looking to begin their World Cup campaign on a strong note, and with massive pressure already on their shoulders, a slip up against Croatia would be disastrous. The hosts will be lining up for their first World Cup match on home soil since 1950. They'll be heavy favorites for this match, but the weight of expectation may prove to be too great – especially since only a handful of their squad has previous World Cup experience.
Croatia, while not expected to get a result, will be desperate to pull off an upset. With striker Mario Mandžukić suspended for this match, the Croatians will consider anything but a loss a successful outcome. His replacement may be Brazilian-born forward Eduardo Da Silva, who became a naturalized Croatian in 2002.
While many have viewed Group A as a cakewalk for the hosts, the three other teams – Croatia, Mexico, and Cameroon – will be competing for second place. Those three squads are fairly even-matched, so a result against the hosts will go a long way for Croatia in their search to escape the group.
Prediction: The hosts, backed by incredible support, will rise to the occasion and Mandžukić's absence will prove costly. Brazil 3 – Croatia 1
2. Spain v. Netherlands (June 13th, 3PM EST)
Day two of the World Cup sees one of the most intriguing matches of the group stage. In a rematch of the 2010 World Cup Final, La Furia Roja will face off against the Oranje in the first match of the very competitive Group B, which also includes Chile and Australia.
Spain will be looking to become the first repeat world champions since 1962, and the very first team to win four consecutive major tournaments, after victories at EURO 2008 and 2012. With the runner up in this group likely to face Brazil in the Round-of-16, the Dutch may prove to be their toughest test in avoiding that scenario.
Unlike Spain's team, which has largely remained the same from four years ago, Louis Van Gaal's side contains only five players who featured in the last World Cup Final. Also dissimilar will be the Dutch style of play. Back in Johannesburg, the men in orange played with physicality bordering on violence. This time around though, fans can expect a different approach. Full of young, energetic players to compliment veterans like van Persie, Robben, and Sneijder, the Dutch promise to play with a positive enthusiasm. And with so many of their players still in their domestic league, many will see this match as an opportunity to market themselves on the biggest stage.
Spain, though, carry with them an immense amount of experience, along with a squad full of reserves that would likely star for any other team. The introduction of Diego Costa up top will add an element of physicality to their attack, but the same stellar midfield will likely carry them far in this tournament.
Prediction: Spain's experience and sheer talent will outweigh the youthful vibrance of Van Gaal's men. Spain 2 – Netherlands 0
3. England v. Italy (June 14th, 6PM EST)
A clash of heavyweights and former World Cup winners will take place in the scorching heat and suffocating humidity of the Amazon. The Three Lions and the Azzurri open Group D, arguably the group of death, at the Arena Amazônia in Manaus, and three points to either side would give them one foot into the next round.
Cesare Prandelli, after experiencing the Brazilian weather in last year's Confederations Cup, decided that fitness would trump technique when deciding his squad for the World Cup. Unlike his predecessors, who adhered to the Catenaccio tactic of extreme defensiveness, the former Fiorentina manager will have his team attempting to play a free-flowing form of football. He may, however, be forced to alter his tactics to suit the weather.
England also may find themselves playing in a cautious manner. With Uruguay and Costa Rica looming down the line, an opening defeat to the Italians would be a devastating start. And with a relatively inexperienced defense, counter attacking may be the strategy of choice. Luckily for Roy Hodgson's men, pace is plentiful, with young players like Raheem Sterling and Alex Oxlade-Chamberlain both possessing deadly speed, though the latter faces recent injury concerns.
Like England, Italy has weaknesses in defense, with full backs Mattia De Sciglio and Ignazio Abate having difficult seasons with AC Milan. However, they do have significant strength in midfield, with maestro Andrea Pirlo more than capable of exploiting a fatigued defense with his pinpoint passing. And with tiredness likely to play a factor in unbearable weather, both sides have strikers who could take advantage, with Daniel Sturridge and Mario Balotelli hoping to make a difference on the outcome.
Prediction: A dreadful day in the Amazon will see mistakes aplenty, but a conservative approach by both sides may result in a stalemate. England 1 – Italy 1
4. Argentina v. Bosnia and Herzegovina (June 15th, 6PM EST)
The first match at the Estádio do Maracanã will see Argentina launch their campaign for a third World Cup triumph. Placed into a relatively easy group with Bosnia and Herzegovina, Iran, and Nigeria, their first opponents may well prove to be their most difficult. And despite La Albiceleste being massive favorites in this match, there are a multitude of storylines that make this a compelling fixture.

Lionel Messi will be hoping that his third World Cup will start with his first goal in the competition. Derived as having underperformed while playing for his national team, Messi has the opportunity to silence his critics and take the first step towards winning the final trophy needed to complete his monumental career. If he has a poor game, or even fails to score, pressure will continue to build on him. And with question marks regarding their defense, Messi and co. may be required to produce multiple times in order to secure a win. Despite their weaknesses, Argentina will be hoping that they will be returning to the Maracanã in just under a month to feature in the final.
Elsewhere on the pitch sees a reuniting of two Manchester City strikers, with Sergio Agüero and Edin Dzeko likely to feature for their respective sides. Both finished within the top six of the scoring charts during their title-winning English Premier League season, and will look to carry on their fine form at the World Cup.
Admittedly, Dzeko is far more important to his side, as he poses their central attacking threat and is their all-time leading goal scorer. This will be Bosnia's first World Cup appearance in their history, having only established themselves as an independent footballing nation in 1992 after the dismantling of the former Yugoslavia.
Prediction: Argentina's poor defense is saved by their star-studded forwards, while Bosnia shows positive signs moving forward in a thrilling game. Argentina 3 – Bosnia and Herzegovina 2
5. Germany v. Portugal (June 16th, 12PM EST)
Group G, another incredibly difficult group in this year's tournament, kicks off with the two favorites: Germany and Portugal. With the other two teams in the group, the USA and Ghana, playing six hours later, all eyes will be on this match, as we'll see the current best player in the world line up against what may be the most talented team in the World Cup.
Germany's squad, much like Spain's, is dripping with talent, particularly through the midfield. Despite the difficulty of this group, they are expected to progress at a canter. The spine of this team is made up of stars from Bayern Munich, including goalkeeper Manuel Neuer and midfielders Bastian Schweinsteiger and Thomas Müller among others.
But while the Germans are favorites to advance deep into the tournament, glaring weaknesses at both ends of the pitch cannot be ignored. They are lacking any serious depth at forward, with Miroslav Klose being the only pure striker brought to Brazil. And in defense, weaknesses at left back and through the middle are likely to be exploited. In addition to a rocky training camp leading up to the tournament, German fans should not take any match for granted.
Portugal, however, face a much greater problem. While they possess the Ballon D'Or winner in Cristiano Ronaldo, the rest of the squad is relatively poor in comparison. Far removed is the golden generation of Luís Figo, Deco, and Rui Costa. Instead, Ronaldo is surrounded by players far below his grade, despite having Real Madrid teammates Pepe and Fábio Coentrão alongside him. Such is the gap in talent between Ronaldo and his teammates that many predict that Portugal will not make it out of the group at all.
This match in Salvador, however, will go a long way in determining the prospects for both sides in the World Cup. Defeat for either will have alarm bells ringing, but matches against Ghana and the United States may provide opportunities for redemption.
Prediction: In a match that is closer than many will have predicted, Germany squeak out a win. Results in the match between the US and Ghana will have significant ramifications on this group. Germany 2 – Portugal 1.