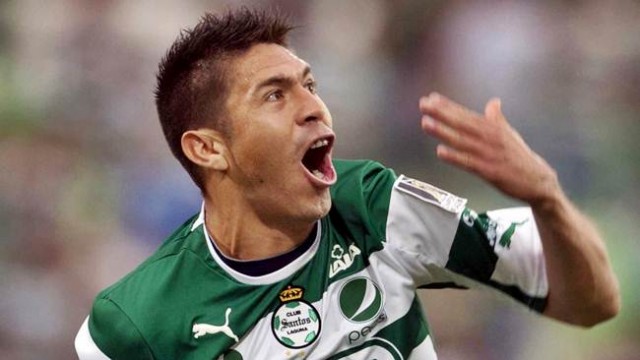 Throughout the recent International Friendlies that the Mexican National Team has had, there have been many players getting the spotlight. On one hand, you have rising star Miguel Layun, who has proven that he is a central piece of El Tri's attacking strategy. In contrast, Javier "Chicharito" Hernandez has not been as efficient as other years for Mexico, possibly because of his lack of playing time at Manchester United. Along with these two players there are others who have garnered attention from El Tri's coach, Miguel Herrera.
Here are three Mexican players who will prove to be essential for El Tri in the upcoming World Cup:
1. Oribe Peralta 
Oribe "The Brush" Peralta has rapidly become one of Mexico's most nationally renowned players, due to his consistently good performances. One of Peralta's clutch performances came in the 2012 Summer Olympics against a formidable Brazil team. There he scored two goals that helped ensure that El Tri was going to get Olympic gold. Since 2011, Peralta has managed to score 16 goals in 25 games  for the national team.
Although Oribe Peralta has not scored in Mexico's recent matches before the 2014 Brazil World Cup, throughout the qualifiers and the past two years he has been consistent. Hopefully being in a grand stage will motivate Peralta to perform at a high level once again.
2. Miguel Layun
Miguel Layun has increasingly become one of the most important players when it comes to Mexico's attacking force. Since his inclusion in the lineup, Layun has started to generate more goal scoring opportunities through the sidelines. One of Layun's notable characteristics is his ability to cross the ball into the box efficiently,where Oribe Peralta and other forwards are usually waiting. This crossing strategy has helped Mexico open its attacking strategy and show that it can be an aerial threat to rival defenses.
Additionally, Miguel Layun has begun to shoot from beyond the box with more confidence. In El Tri's recent game against Israel, Layun managed to score two long range goals that helped guarantee the team's 3-1 win. Although one of the goals was questionably a mistake by Israel's goalkeeper, Miguel Layun's determination to test the keeper proved worthwhile. With more consistent playing time we can expect Layun to be a serious threat for other teams.
3. Rafael Marquez
Lastly, Rafael or "Rafa" Marquez will also be a key player in the upcoming World Cup. With plenty of experience and talent, Marquez is the cornerstone of Mexico's back line. Marquez has previously played in Barcelona and AS Monaco where he won numerous awards with both teams. His previous World Cup and Champions League experience will be important in El Tri's upcoming games in Brazil.
Mexico's defense has not been the best in recent games but this sets the stage for Rafa to put his leadership skills to test. Even though Marquez' defensive skills are important, his ability to aid down the field is also vital. His capability to make long range passes is also useful since it allows for El Tri to switch its strategy. The upcoming 2014 World Cup will be Rafael Marquez' last one and he will aim to lead Mexico to a successful tournament.
Conclusion: Overall, Mexico will need a lot of its players to start playing at a higher level for the upcoming World Cup. Three of those players will surely be: Oribe Peralta, Miguel Layun, and Rafael Marquez.. Of course, there are other notable players such as Giovanni dos Santos, Hector Herrera, and Hector Moreno. We can only wait to see if Mexico will exceed the low expectations that people have for them in the World Cup.