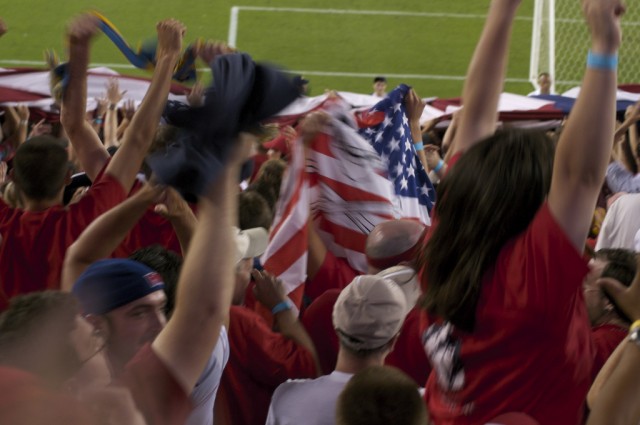 Prior to Klinsmann naming the United States' 23 man-roster going to this year's World Cup in Brazil, I'm sure many people had Landon Donovan penciled in to their US starting XI. After receiving the shocking news, I also had to erase his name from my starting lineup. So now the question arises, Who is Jurgen Klinsmann starting for USA against Ghana?
Lets start from the back. Tim Howard, perhaps the most reliable player on the squad, is going to start in goal for the stars and stripes, barring an injury of course. The warm-up friendlies for the US has seen Geoff Cameron and Matt Besler at the central defense and have done pretty well with rotating defenders on the outside.
Timmy Chandler started against Turkey and played an overall good game, but a quick lapse towards the end of the game allowed Turkey to win a penalty and a goal to bring them back within one of the United States. Such lapses against Germany, Portugal, and even Ghana will most likely end with the ball in the back of the net as well.
Therefore, left back should be held by the veteran DeMarcus Beasley, entering his fourth world cup, and Fabian Johnson, who scored a wonderful goal against Turkey, will most likely feature as the starting right back.
According to the friendlies played by the United States Men's National Team, we should see a diamond midfield in Klinsmann's new 4-4-2 formation. Jermaine Jones, with his quick distributions and fearlessness to do the dirty work, will slot in just in front of Cameron and Besler as the holding midfielder, while workhorse-playmaker Michael Bradley will start in the attacking midfielder role.
Graham Zusi and Brad Davis offer a lot of good crosses as well as good deliveries on free kicks. Expect to see Zusi on the right and Davis to start on the left. Alejandro Bedoya could see himself in the starting XI over Davis, but according to Klinsmann's tendencies, Davis should be sending in crosses from the left flank to start off for the USA against Ghana.
USA has not had a forward score a goal in the previous two world cups, with goals coming mostly from midfielders. In particular, Clint Dempsey has been a midfielder to score multiple goals. This time around, he will feature in the starting lineup as a forward, though. Dempsey has become the United States captain and rightfully so: no American player entails the rags to riches story quite like Clint "Deuce" Dempsey, whose hard work has taken him from a small town in Texas to the world's stage in Germany ('06), South Africa ('10), and now Brazil in 2014.
Dempsey will form a partnership up top with Jozy Altidore. A year ago, Jozy was on a goal-scoring streak rarely seen in his young career, but has been on a drought since his first season back in the English Premier League. With Dempsey and Altidore up top, the US World Cup forward drought could easily come to an end this summer in Brazil with the pair being able to generate chances up top practically out of nothing and the ability to hit hard on the counter attacks against powerhouses Portugal and Germany, who US will need to grab points from in order to advance out of the group stages this year.
The United States face an uphill battle to move to the knockout stages at this year's world cup, but with this lineup, Klinsmann's tactics, and a tad bit of luck, the USMNT could go far into the tournament in Brazil this year.