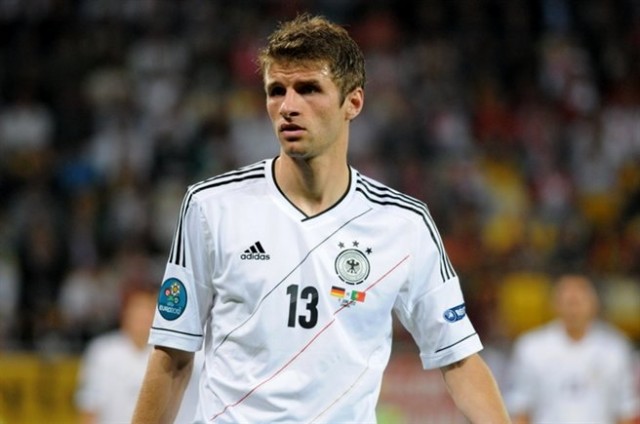 The German National Team are no stranger to the high expectations that follow them ahead of a World Cup and it is no different this year either, having won three titles in the past. Injuries have plagued the squad recently, but Manager Joachim Löw expects his team to be full-strength before facing Portugal on June 16th at the Arena Fonte Nova.
As for what lineup to expect game day against Portugal, opinions vary, but I personally think it will be a relatively typical strong-strength German squad loaded with talent primarily from Bundesliga powerhouses Bayern Munich and Dortmund, with Mertesacker, Podolski (a favorite of Löw's), and Mesut Özil rounding out the trio from Arsenal.
Joachim Löw and his squad still have one last friendly against Armenia on June 6th at Mainz to get an idea of what starting 11 he would like facing off against Portugal. While Armenia has a significantly weaker squad on paper compared to Germany, they will still test the resolve of the Germans to break down teams that are likely to bunker down against the onslaught of their offensive firepower. It will also serve as a great way to foster competition in areas of the German squad that are looking rather unfinished, such as the left-back, final attacking wide attacking midfielders, and center-back positions.
I expect Germany to line-up with a trusty 4-2-3-1, with a Central Midfield consisting of a double-pivot defensive midfielder tandem of Bastien Schweinsteiger (if he is healthy in time) and Sami Khedira, which has yielded successful results in the past. Khedira's penchant for sturdy defensive play and great tactical awareness gives Schweinsteiger creative license to sometimes push forward, joining the attack, while the center-backs are given an extra layer of protection in case an opposition counter-attack were to take place.
The back-line is a crap-shoot at the moment, with Joachim Löw unable to find a Center-Back duo he is most confident going forward with yet. I think it will eventually come down to being Hummels and Boateng in front of Manuel Neuer (if he is also healthy in time) as Goalkeeper. Why these two? Both have the technical ability to play themselves out of danger, which will be very useful against the pace of Portugal. They also have relatively decent top-speed for center-backs in case an inevitable counter-attacking situation were to arise. That said, Per Mertesacker has every right to be in the starting lineup in Brazil as well, after his stellar season with Arsenal. I predict Hummels will be the definitive starter, with Mertesacker and Boateng rotating based on tactical necessity.
As for the wide-back positions, it is with near 100% certainty that Phillip Lahm will man the Right-Back slot. Against Cristiano Ronaldo, Germany are going to want a player who is as good in his position as Ronaldo is at his, facing off with him. Even though Lahm has been seeing time in central midfield with his club, Bayern Munich, it is a tactical necessity to have him guarding (arguably) the world's greatest player.
The Left-Back position is less obvious at the moment. Die Mannschaft have been having a well-documented troubling time figuring out who should play this position ahead of the World Cup. None of the options available to Germany have been reassuring or warranted performances consistent enough to make a permanent decision. The only player called up to the final 23 whose natural position is Left-Back, is Erik Durm, who recently battled injuries but is now fit to play. Depending on Durm's performances, Philip Lahm could takeover as well, although he has professed his preference to man the right side.
Now for the Attacking Midfielders. At the moment, Mesut Özil is not playing at his best. So I think the coveted central attacking midfield slot will be taken by Toni Kroos, a player equally adept at creating chances as Özil. Although Kroos has bouts of inconsistency just like Özil, he will own this position by virtue of Özil's inability to maintain any semblance of consistency for either club or country. This could all change however, given that performances in training could sway the mind of the manager.
The Wide Attacking Midfielders I'm predicting will be manned by Thomas Müller on the right-hand side, and the left-side a fierce battle between Marco Reus, Lukas Podolski, André Schürrle, and Julian Draxler. Mario Götze will likely be a rotation option between Right Attacking Midfield and Striker as a Flase-Nine in situations that would permit it. He could also play in the middle of the park as a Central Attacking Midfielder if Löw needed a player with some direct dribbling ability in contrast to the styles of Kroos and Özil. All in all, I think it will be Marco Reus who claims the Left Attacking Midfield position.
And finally, the Striker position. Manager Löw opted to call-up a single striker in Miroslav Klose. I believe Klose will start by virtue of experience. He will also be determined to steal the record for goals scored in the World Cup (15) from the legendary Ronaldo Luís Nazário de Lima, otherwise known as Ronaldo. As mentioned before, Germany could also decide to use a False-Nine setup, with Mario Götze the likely player to play this role. Expect to see Klose used in situations that require a direct approach, and Götze used in situations requiring a patient approach. It is worth noting however, that Thomas Müller and Lukas Podolski could fill-in as strikers as well.
Tactically, Germany play a style similar to Dortmund, with hard-pressing, fast one-touch passing, and slick combination off-the-ball movement. This team is going to be dynamic, defensively sound, and very hard to defend against. They can switch styles on the fly, play to control possession, or play to counter-attack. Either way, all indications are that Germany will be strong contenders for winning themselves a much coveted fourth World Cup trophy.