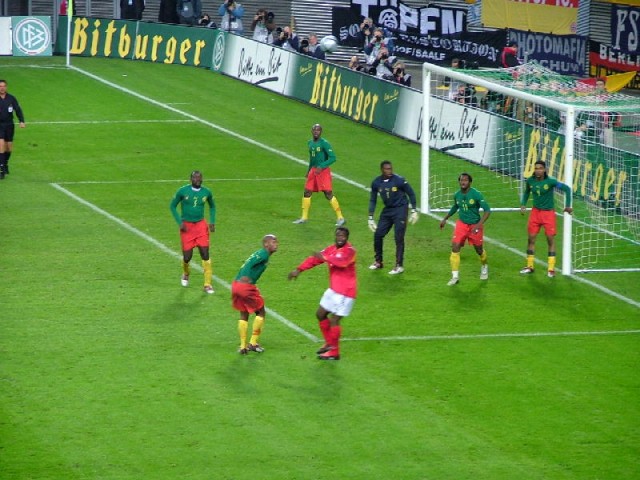 The Cameroon (Camerun) vs Paraguay match will take place next Thursday, May 29, 2014 (5:00 PM Pacific), at the Kufstein Arena in Austria, as they continue their preparation for the World Cup 2014 that is only two weeks away.
The African side measured forces with Macedonia three days ago in Austria as well and they managed to put up a very decent performance ending up by winning the match 2-0. The Fenerbahce striker Patrice Webó offered his side the lead with an impressive acrobatic move and Choupo-Moting placed the second on the last ten minutes of the match.
After they have failed to qualify themselves to the last two African Cup of Nations and after experiencing several difficulties to grant a place at the World Cup, thanks to some poor performances in their qualifying group, Cameroon appointed the 66-year old Volker Finke as their new head coach back in May 2013. Although he still has plenty work ahead of him, the truth is that the team started to improve and they even managed to book their ticket to the Brazilian World Cup on the playoff match against Tunisia.
Volker Finke brought in new ideas to the team and he is also trying to implement a versatile 4-2-3-1 style that can easily be transformed in a classic 4-3-3, nevertheless and due to the lack of creative players in the centre of the midfield, he is experiencing some unexpected difficulties. The Barcelona midfielder Alex Song has been "in charge" of that playmaking job, however he does not seem particularly familiar with that demanding role.
Cameroon were placed on Group A of the World Cup alongside with the hosts Brazil, Mexico and Croatia, and although they have an interesting set of players, they might not stand a single chance to walk through to the next stage of the competition on such a complicated group.
For the match against Paraguay, the Cameroon's German manager is not yet certain if he will be able to count on the contribution of Pierre Webo, who suffered an injury (that is apparently not very severe) on his shoulder while he performed an overhead kick on his side's first goal against Macedonia.
As for the South American side, Paraguay is far from being experiencing a positive moment. The team has only managed to win one of their last nine matches and they have recently been defeated by Costa Rica on their first international friendly after the disappointing performance on the CONMEBOL qualifying stage.
The team's manager, Víctor Genes, seems to want to refurbish his team, as he has picked several young players for his side's next international friendlies. Nevertheless, it is not very likely that Víctor Genes changes his usual 4-4-2 approach and he will rely on the talent of Cristian Riveros, Hernán Pérez, Santa Cruz, and Valdez, to try to put his team back on track once again and properly prepare the 2015 Copa América.
Cameroon vs Paraguay Prediction
To sum things up, the match against Paraguay will certainly pose a good test to a still frail Cameroon side that still needs to improve a lot if they want to take something positive out of the Brazilian tournament. This being said, the most likely outcome is 1-1.
Possible line-ups
Cameroon (4-2-3-1) – Itandje – Nkoulou – Nounkeu – Chedjou – Assou-Ekotto – Eyong – Song – Matip – Makoun – Moting – Eto'o
Paraguay (4-4-2) – Fernandez – Moreira – Gomez – Ortiz – Alonso – Cáceres – Riveros – Pérez – Benítez – Santa Cruz – Valdez
Venue: Kufstein Arena (Austria)
Capacity: 4500
TV Schedule: Not shown in USA, outside USA on Abu Dhabi Sports 3 HD