The Club America vs Veracruz Liga MX Week 12 match will take place this Saturday, March 22, 2014 at 4:00 PM Pacific at the Estadio Azteca in Mexico City. Club America has lost its last three home games, and will be looking to break that streak against Veracruz, a team that currently sits in last place in the standings.
Turco Mohamed has had a mediocre first season in charge of Club America, his squad simply has not reached the levels we saw when Miguel Herrera was in charge. Turco's team has earned only 16 points in 11 matches, although not good, it's just barely enough to keep America in the top eight playoff spots. However, it is worrisome to see that America has only won one out of the last six matches. That streak includes three consecutive home defeats.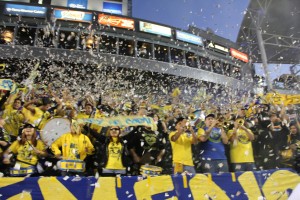 Mohamed is under extreme pressure to defeat Veracruz, a squad that has only won two matches all season long, and is one of the main candidates for relegation. A win over Veracruz would ensure America remain in the playoff spots, a tie or loss could very well signify the end of their season, and possibly the end of Turco's tenure with America.
Veracruz has a modest squad that boasts only Angel Reyna as its only well known player, and 'Chelis' as its coach. The team has only earned nine points all season long, and is in serious danger of being relegated by the end of the season. To further complicate things for this troubled squad, it appears Angel Reyna will be unavailable for the America match due to an injury. For America, Layun is still out injured, everyone else is available.
Club America vs Veracruz Prediction
Although America has been struggling, I find it extremely hard to believe that Veracruz will turn things around. Turco and his players know that the entire season could depend on the outcome of this match, if they cannot defeat a weak Veracruz at home, it is highly unlikely they will earn enough points to get into the playoffs.
Chelis will be his usual self, trying to motivate his players with his charismatic personality, but it will be for naught. America will finally win a home game, getting a 2-0 victory over Veracruz.
Club America vs Veracruz Television
The Club America vs Veracruz match will be televised on Univision at 4:00 PM Pacific.
Club America vs Veracruz Highlights
The match highlights will be uploaded here as soon as the game ends.