On Saturday afternoon, another important event took place at Stamford Bridge. The 35-year-old midfielder, Frank Lampard, broke two records – first, he claimed the second spot on the Premier League's list for number of appearances in this competition, and second, he became the player on the pitch with most minutes in the Premier League. His inclusion in the starting XI brought him to the number of 573 games in which he participated, leaping over goalkeeper David James, who is now third on list with 572 matches on his agenda. On this list, first place is in hands of Ryan Giggs, with 631 appearances in the Premier League, but we need to point out that Welsh player is 5 years older than Lampard and he is still an active player.
And with total tally of 47.618 minutes on the pitch, he is the player who's spent most of time in play, apart from goalkeepers. Before his arrival to Chelsea, Lampard was member of West Ham United. As member of Hammers, he participated in 148 games, before he moved to London in 2001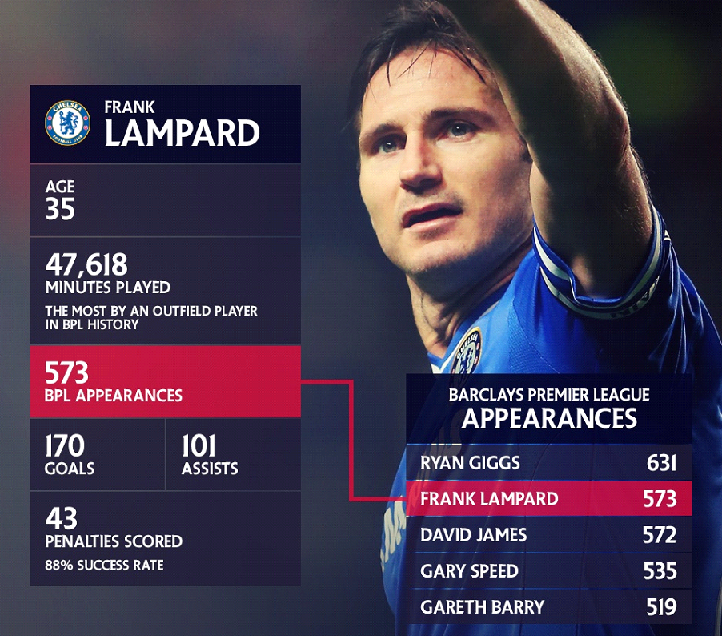 His records and trophy collection are both impressive – he scored 170 goals and assisted for 101 goals. With 210 goals on his agenda, he is best scorer in history of Chelsea.
As for the trophies, he won 3 Premier Leagues, 4 FA Cups, 2 League Cups and Community Shields and Champions League and Europa League.
A senator in the Premier League, vice-captain of Blues, clubs top scorer, gentleman both on and off the pitch – one day, when he looks back at his career, he will definitely be proud of everything he achieved.