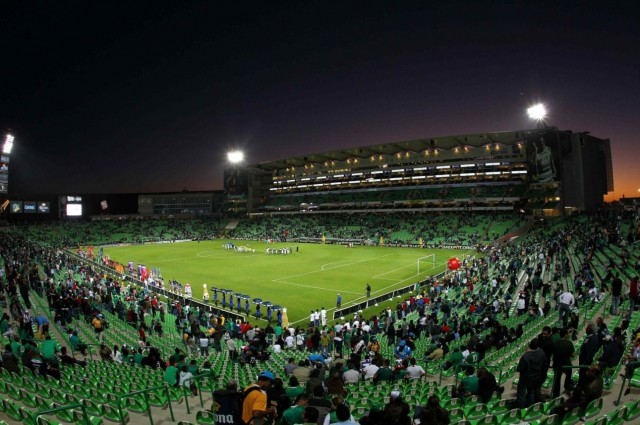 The Santos Laguna vs Atlas Liga MX match will be played this Friday, February 28, 2014 (7:30 PM Pacific) at the Estadio TSM Corona. Santos will attempt to return to their winning ways after they lost 4-2 against Leon last weekend. Meanwhile, Atlas is highly pressured to win in order to move away from the agonizing relegation battle which also includes Veracruz, and Atlante.
Santos Laguna had a terrible game last weekend against Leon when they lost 4-2. The team coached by Pedro Caixinha may have been affected by exhaustion as they are also competiting in the Copa Libertadores which requires long flights to South America. Against Atlas, the Laguneros will look for the win and with most of their starters as they will not compete in the international tournament until March 11. It will be interesting to see which players Caixinha lines, as many need a rest like Oribe Peralta who will miss the match.
Atlas will have a very difficult away match when they play at the TSM.  The team coached by Tomas Boy is the second worst team thus far into the Clausura 2014, as they have only obtained 6 points after 8 matches. The terrible campaign they are having is creating, or is even caused by the incredible pressure they have from the relegation table. They are currently 5 points in front of Atlante in that relegation table, and if it were not for the Potros bad season, plus that of Veracruz, the Rojinegros would be in a much worse situation.
Santos Laguna vs Atlas Prediction
The Santos vs Atlas match will be very interesting as both teams are currently performing in different levels and at different circumstances. Santos wants to win to remain in the fight for a playoff seed; with the 3 points, they will reach 13 points and could finish Week 9 amongst the Top 6. Meanwhile, Atlas cannot afford to lose, as a win by Atlante this Friday against Morelia could put the two teams 2 points from each other. The Santos Laguna vs Atlas match will end in a 1-1 tie.
Santos Laguna vs Atlas TV Schedule
The Santos Laguna vs Atlas match will be televised on Univision Deportes at 7:30 PM Pacific.
Santos Laguna vs Atlas Highlights
The Santos Laguna vs Atlas video highlights will be uploaded soon after the end of the game.