It is evident that all is not well at Manchester United. Just when it looks like the Red Devils are finally making strides forward under David Moyes, they immediately seem to be taking two steps back and such a lack of consistency is hurting United.
The abysmal loss at the hands of Olympiakos in the Champions League was a perfect example of how everything is going pear-shaped for the defending Premier League Champions, what had been billed as a 'Dream job' for David Moyes, is proving to be a poisoned chalice.
When one would think that it could not get any worse for the Red Devils, it seems that there is a bit of unrest among the playing staff at the United camp as well.
Following United's loss against Olympiakos, United's talisman Robin van Persie, had decided to vent his frustration by taking a swipe at his teammates.
The Dutchman was visibly frustrated with his own performance against Olympiakos, but stated after the game that his cause had not been helped by the fact that his teammates had made it difficult for him by occupying positions where he was most effective.
He said, "Sometimes I try to find ways to do more but in the areas I wanted to play, my team-mates were often there. This makes it difficult for me. Then I have to change my tactics to suit my team-mates, and play outside my zone. It's a pity."
Now, van Persie's teammate Javier Hernandez seems to have taken an exception to the Dutchman's comments and perhaps as a result, posted a picture on Instagram with the message, "Without your teammates you can't be somebody in football, always be thankful."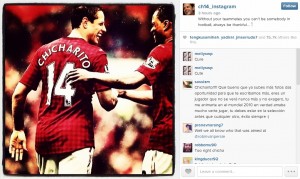 It's unclear what Hernandez was looking to imply, but by posting such a message immediately after van Persie had taken a swipe at his teammates certainly makes one wonder whether the Mexican star was hitting back at his colleague.
If the message was indeed aimed at van Persie, then unrest among the team would be the last thing David Moyes or Manchester United fans would want at the moment.
What do you think? Was Hernandez's message a coincidence OR Did the striker aim to hit back at van Persie?