As defeat from last night was not unpleasant enough for Manchester United fans, this day brought another problem which targets season ticket owners. From a story published by ManchesterEveningNews website , whoever does not buy a ticket for the return match against Olympiakos will not be able to enter Old Trafford for the match against Manchester City in the Premier League.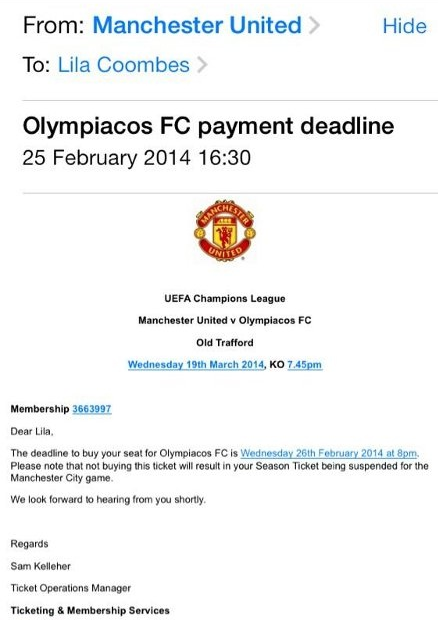 Social networks were first overcrowded with comments that this picture was fake, but after hearing this news from a linked website, general opinion is that fans are disappointed with this decision. But everybody are forgetting one important detail – when a fan signs a season ticket contract with the club, there is a statement in which says that they are obliged to buy tickets for Champions League and FA Cup.
As we wait for more news about this blackmail, one thing is certain; the performance last night against Olympiacos was horrible, and it was clear that some of the players lacked both game-time and security.
With yet another loss for United, it is more than certain that David Moyes will be much more closely analyzed as to where he stands with the team. The manager stated last night that Old Trafford has witnessed some of great comebacks in history for the Red Devils, but now it looks like morale is very low. We will see in upcoming days if the team improves, and if the fans give them their full support at Old Trafford.