It was widely believed that Tottenham managed a major coup by signing Spanish international striker Roberto Soldado in the summer. On the back couple of fantastic seasons with Valencia, as well as a successful FIFA Confederations Cup, Tottenham decided to splash £26 million on the striker and no one would have blamed the Spurs fans for getting excited over their expensive new recruit.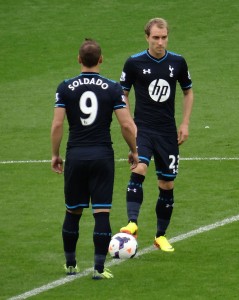 However, as things have turned out, the 28-year old has grossly failed to succeed and has arguably been one of the worst signings of the season so far. Soldado has scored only 5 times in 21 Premier League appearances this season, with 4 of his goals coming from the penalty spot.
The reemergence of Emmanuel Adebayor has seen Soldado consigned to the bench in recent games and when he did finally get an opportunity to start in Spurs' Europa League knock-round clash against Dnipro Dnipropetrovsk last night, the Spanish striker certainly did not cover himself in glory.
He had an ineffectual game before being hauled off 85 minutes into the game as Spurs succumbed to a 1-0 defeat and embarrassingly, the striker's most meaningful contribution throughout the match was missing a sitter from 5 yards out with the goal at his mercy, when the scores were tied at 0-0.
Admittedly, the pitch was in woeful condition, but a striker of Soldado's quality should have been burying such chances with his eyes closed. The miss cost Tottenham a valuable away goal and Tim Sherwood's men will now have it all to do in the second leg at White Hart Lane. Soldado's performance certainly did not please former Spurs owner Lord Sugar, who lambasted the 28-year old through social media side Twitter, by labeling him a 'donkey' before comparing his miss to former Spurs player Ronny Rosenthal's famous miss for Liverpool against Aston Villa in 1992.
Is Soldado a donkey or what. My old grandmother could have scored the one he just missed. Nearly as bad as the Ronnie Rosenthal miss

— Lord Sugar (@Lord_Sugar) February 20, 2014
What do you think? Should Spurs persist with Soldado any longer or cut their losses and move him along in the summer?