As the Premier League moves in to the final third of the season, all players are set to give their best on the pitch in order to achieve tasks that they have appointed to themselves and promised to fans in August. One of the players for whom this season was great by every means is certainly the Belgian goalkeeper – Simon Mignolet.
After his arrival at Anfield from Sunderland, the 25-year-old player is now in battle for a place which will secure (qualifications for) Champions League next season, but, after recent brilliant games and favorable run of fixtures until the end of season, the word "title" can be heard after every game in Liverpool. One thing is certain – the Reds will need all the inspiration they can get, but have you ever wondered where Mignolet finds his inspiration ?
After visiting the Liverpool Sports Centre, where he was introduced to Marie Rooney (64 years, who  works in this community for 30 years, six as a manager), the Belgian was full of praise for her and her work.
Surprise, surprise for community hero Marie as #LFC goalie @SMignolet pops by to say thank you http://t.co/o00Slih2Dz pic.twitter.com/mue286rr6M

— Liverpool Echo (@LivEchonews) February 21, 2014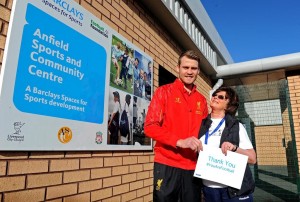 In news, presented by Liverpool Echo, he said that everything she has done for Liverpool Sports Center is something people must admire and respect, and all her work is something in which he finds inspiration. As a representative of Liverpool, Mignolet had the honour of giving Marie a set of 25 tickets for the next Liverpool game at Anfield.
Only thing left now is to hope that Marie and her companions at the game will be a "lucky charm" for Liverpool.