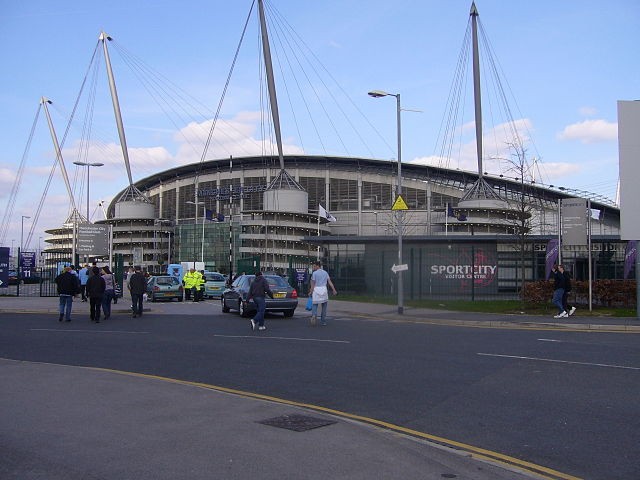 Manchester City host Barcelona in the most anticipated Champions League round of sixteen match in quite some time, on Tuesday, February 18 at The Etihad. This will be the first time Manchester City play in the Champions League knockout stages, while Barcelona have made it a good habit year after year. Both teams are coming off victories on the weekend and this first leg should live up to the hype.
Barcelona go in as favorites over the two legs, but Manchester City have a legitimate shot to knock off the Blaugrana, but a lot of that depends on the tactics of Manuel Pellegrini. Pellegrini knows Barcelona from his days as Real Madrid and Malaga manager. He seems to fancy a 4-4-2 system but I think that would be a mistake in this first leg against Barcelona. Barcelona are the masters at keeping possession, so I think it would be best if Pellegrini loaded the midfield with an extra body to cope. Earlier this campaign, Manchester City's 4-4-2 system was exposed by Bayern Munich and more recently in the Premier League against Chelsea, both at the Etihad.
I think Pellegrini can play two strikers but only if Jovetic is one of them. Jovetic is a good player going forward in attack, but more importantly, he is a decent defender and will track back into midfield when Barcelona are in possession. Pellegrini could also decide to go with Negredo isolated up top with five midfielders. If he does that, I would say it would have to be Toure and Fernandinho (pending late fitness) as holding mids with Silva, Navas, and Nasri.
I think Manchester City can learn a lot from the performances of PSG last year when they nearly defeated Barcelona. PSG did not have much possession, but when they did win the ball, they countered quickly and exposed Barcelona's backline. Having a fast winger is crucial in countering Barcelona. Last year for PSG, Lucas was phenomenal and I believe that Navas could be the Lucas this year.
This is an intriguing tie because both teams love to possess the ball and get numbers forward. Both teams have fullbacks who love to attack but can be exposed on the counter. This game is almost two teams that are mirror-images of each other in a sense.
Pellegrini could also play Dzeko and Negredo together up top to give the team height, something that Barcelona's defense has struggled to cope with over the last few years. I would not start Dzeko in this game only because he does not defend and City need to play more defensive this first leg, so that they can give themselves a shot in the return fixture.
Pellegrini needs to set up his team expecting to not have much possession in this game. City probably need to take a lead when they head to the Nou Camp for the return leg, but more importantly, they need to keep a clean sheet. They can ill afford to allow Barcelona to get an away goal. A nil-nil score line for the Citizens would not be the worst result. If Pellegrini gets his tactics spot on by stacking the midfield, I fancy City to take an aggregate lead to Spain.