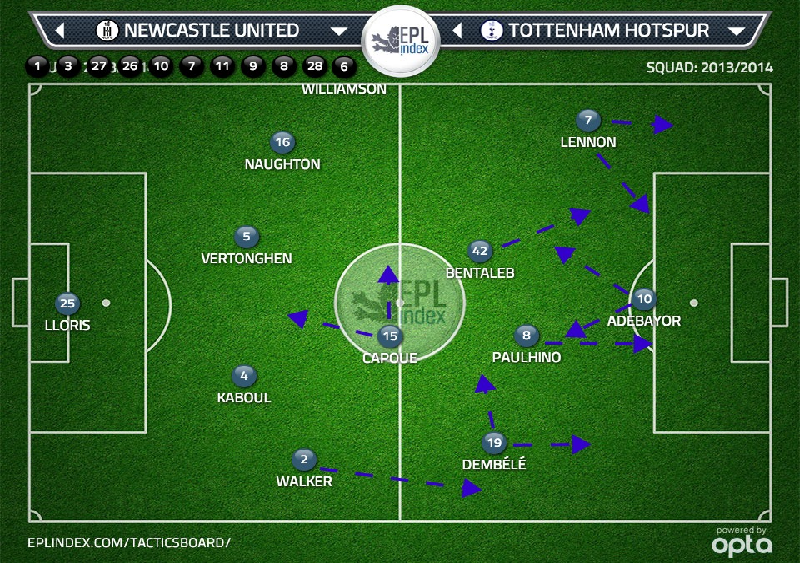 Tim Sherwood made three changes from the team that beat Everton at White Hart Lane: Kyle Naughton slotted in at left back, Etienne Capoue came in to give the midfield a new shape, and Younes Kaboul saw his first start since the 6-0 thrashing at Manchester City. The team selection was puzzling to most people at first, but the game plan was clear from the first whistle: Sherwood's men were to press high up the field and attack in a very direct manner. Tottenham's goals were more about power and determination than skill and finesse (Chadli excepted). They were full value for their four goals, and thoroughly deserved the win.
Offensive Pattern and Play:
Spurs lined up four extremely physical players in midfield, in what was somewhere between an offset 4-2-3-1 and a 4-1-4-1. Young Nabil Bentaleb's so called "band of brothers" worked very hard to control the game. Dembele was fielded as a mezzala (a winger that doesn't belong there), and often tucked in to create a 4v2 in the center of the park. Paulinho and Bentaleb were fielded as box-to-box players in a midfield triangle that included Capoue as the anchor.
Adebayor continued his purple patch with two goals, but was also extremely important in the Spurs' build up play. He continually dropped deep to receive the ball and bring others into play, which opened up space for Bentaleb and especially Paulinho to surge forward into. Paulinho's goal was a perfect example of this. Spurs won the ball in the Newcastle half, Adebayor dropped deep, picked out Bentaleb, who found Paulinho at the top of the box, whose clever flicked allowed Adebayor the space to shoot, and then Paulinho was rewarded for surging into the box to follow up. It is telling that Adebayor completed the 3rd most passes of any Spurs player, extremely uncommon for a striker. In fact, his average position was deeper than that of both Dembele and Paulinho, and just higher than that of Bentaleb and Lennon. The buildup was very direct, playing to the strengths of Sherwood's selection. Tottenham failed to create when they had sustained periods of possession, lacking a real creative force. It was their defensive work-rate that won them the game.
Defense: First and Second Phase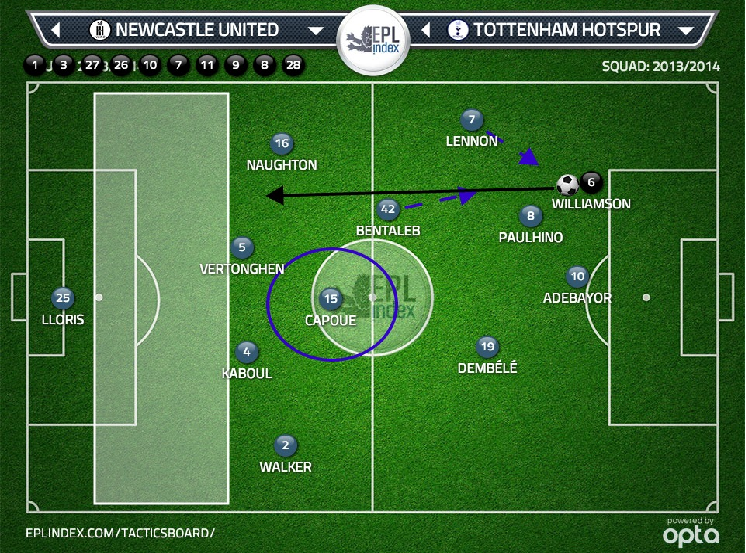 The most interesting feature of the game, was how Tottenham set up to defend. The system was very reminiscent of how Andre Villas-Boas prefers to defend. They made the field of play extremely small by pushing the back line very high up the field, while the front five hunted in packs. Vertonghen commented earlier in the week that Sherwood had been working more on team shape, now that they were scoring again, and it was very evident here. The Tottenham manager selected a team that could press tirelessly for a majority of the game, and they did.
In the transition phase, when the ball was deep in the opposition half, at least one player was always closing Newcastle down, usually more. More importantly, they pressed as a cohesive unit, making it very difficult for the Magpies' to play through or around them. Instead they looked to play their strikers directly into the attacking third. Here, Sherwood's selection played a large part, too. He opted to leave club captain Michael Dawson on the bench, in favor of his two quickest center backs. The back four held the high line very well, forcing Newcastle offsides three times, and holding their final third pass completion under 50%(Spurs are the only team to do so this season). Etienne Capoue did a marvelous job playing behind the front five, cleaning up anything played into the middle of the park.
In the second phase, the midfield dropped off to form a bank of five, with the three central midfielders very compact. When Newcastle did get the ball into the Tottenham half(especially as the game wore on), Spurs were content to concede space in front of them, staying very tight in the middle and between the lines. They preferred to have the Magpies play the ball around in midfield, waiting for something to trigger a press(typically a player facing their own goal or a poor first touch). The Spurs wingers and fullbacks also stayed very tight to the Newcastle wingers, wary of the danger that de Jong and Cisse possess in the air. There were two clear paths through for Alan Pardew's men: play the ball through the lines, or beat Spurs over the top. Neither route proved very successful, as the defensive organization from Tottenham was excellent. As a result, Newcastle rarely threatened outside of set plays, where Lloris was forced into some very, very good saves.
Etienne Capoue: THE Key Player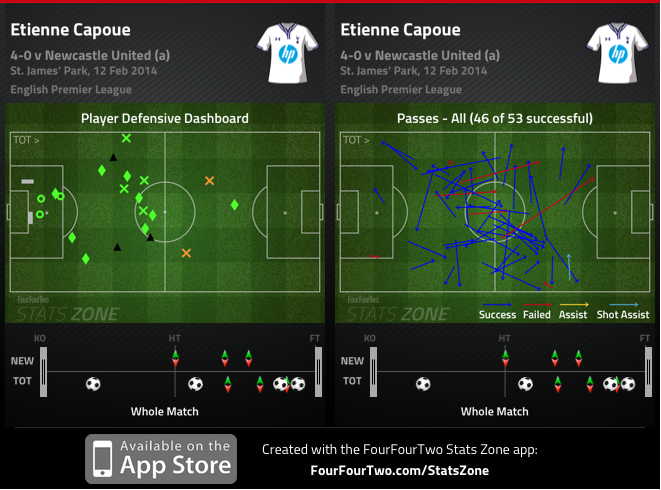 While Lloris and Adebayor will take the plaudits, Capoue's contribution to this game absolutely cannot be overlooked. He led the game in both tackles(4) and interceptions(9), and was central to how Spurs set up to defend. He sat between the center-backs and in the middle of the park while Tottenham was on the ball, and he mopped up any danger that came his way. Not only was he excellent defensively, but he also completed more passes than any other player in the game, with more of them going forward than in any other direction.
This allowed Bentaleb to play in his most effective role. Contrary to popular belief, he is not a holding midfielder, he is more of a box-to-box player. For the Tottenham academy he excelled much higher up the pitch, as evidenced by his magnificent run to set up Adebayor's first goal, and his assist for Chadli's.
Conclusion
This was not a pretty display from Spurs. It was not intricate, it was not flowery. What it was, was efficient and powerful. Tottenham demonstrated that a well organized and defensive team can be extremely offensive. Sherwood continues to surprise and impress Spurs fans with his flexibility and tactical nous. Here he, Ferdinand, and Ramsey illustrated that they are capable of devising a winning game plan, which they will continue to have to do if they want to remain in their current positions.