Liverpool manager, Brendan Rodgers, praised and admired his midfielder Jordan Henderson after he saw his performance when The Reds trashed Arsenal 5 – 1 at Anfield. Analyzing the young player's current form, the manager feels that Henderson deserves to be considered for the England national team in the Brazil World Cup.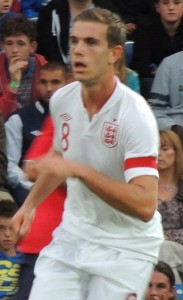 According to the Daily Mail, Rodgers said, "For me, you had the tree England (midfield) players on the pitch. Stevie (Gerrard) playmaking from behind then two attacking players who can run, get forward and get into the box and can press. (Jack) Wilshere is a wonderful player. Jordan Henderson, tactically, is improving so much and Stevie is in the zone just behind".
Brought to Anfield in June 2011, the 23-year-old mildfielder has been an important player in Liverpool's three-man midfield this season. In the Liverpool's game against Arsenal, he was highlighted greatly for his performance as with his never ending run, covered more ground than any other player.
Rodgers is also impressed with Henderson's willingness to learn as a professional player and his tactical idea of the game.
"What he has shown is he is a great learner. If you have the ability to learn, take things on board and devote your life to your profession, then you have a great chance. That's been the message here with all the young players," said Rodgers.
Furthermore, he said,"I have been mightily impressed with his tactical idea of the game and now he looks like he is ready to play for England for many years."
In short, there is no doubt that Henderson keeps on improving and his performances are getting better as the season grows older. Only time will tell whether or not the England Coach, Roy Hodgson, will give him a place in the England squad for the World Cup in Brazil.
What do you think? Is it time to give Henderson a solid opportunity with the Three Lions? Or are players with more experience necessary for England to succeed in the Brazil World Cup?