Munich Air disaster – Remembering the 23 who lost their lives that fateful day, 56 years ago [Video][Tribute by Liverpool on Twitter]
On this day 56 years ago, a terrible tragedy had befallen England's most famous club, Manchester United. A British European Airways flight 609, carrying the United team, supporters and journalists, crashed after attempting to take off from an Munich Airport runway. The disaster sadly took the lives of 23 out of the 44 passengers on board.
The young team which was led by Sir Matt Busby were on course of their 3rd consecutive league title and had just advanced to the European Cup semi-finals before the tragic incident took place. The United side was heralded as the one of the finest of its generation and popularly termed as the 'Busby Babes', lost eight of their members.
Eddie Colman, 21, Billy Whelan, 22, David Pegg, 22, and Geoff Bent, 25, Tommy Taylor, 26, Roger Byrne, 28, were the seven players who lost their lives on the spot while Duncan Edwards, 21, who was hailed as a brightest young player in England, passed away 15 days later at the hospital. Johnny Berry, 31, and Jackie Blanchflower, 24, survived the tragedy but never went on the play again.
In the aftermath of the tragedy, United struggled to put a team on the pitch with the club having to loan non-league players in order to complete the season. Incredibly the Red Devils managed to reach the FA Cup Final that year, before losing out to Bolton Wanderers.
Let us all take a minute to remember the Flowers of Manchester, the Flowers of England.
Manchester United's fierce rivals, Liverpool, have taken out time to pay their tribute to the 23 who lost their lives in tragic incident with the following picture on Twitter.
Thinking of those who lost their lives in the Munich air crash. Some things are more important than football rivalry. pic.twitter.com/bUpOtvTNMl

— Liverpool FC (@LFC) February 6, 2014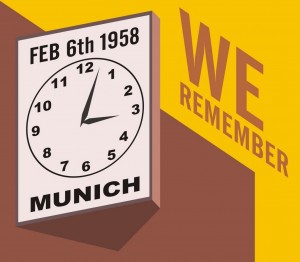 Although football is beautiful due to its rivalries on the pitch, such incidents certainly put things into perspective to remind us all that there some things more important than footballing rivalries or indeed our beloved Beautiful Game. A class act by Liverpool!