People certainly do have short memories when it comes to football. Not more than two years ago, Tom Cleverley was the next great hope to have emerged from the famed United academy. The same academy which had recently been encountering a bit of a lean spell in terms of players graduating into the first team to grace the Old Trafford pitch, after the ridiculously successful batch of '92.
There was a feeling among United fans of desperately wanting to see Cleverley succeed and people were not shy of labeling him the next 'Paul Scholes', although the two had very little in common, except for the fact that both of them were central midfielders born in England.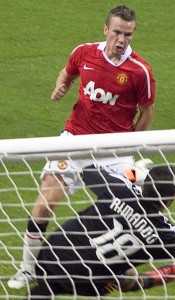 It was understandable though, as the United faithful wanted a new hero to emerge from their own backyard, someone whom the fans could call their own after reveling in the success of the likes of Scholes, Beckham and Giggs for years.
Fast forward to 2014 and Cleverley is perhaps the first player whom the majority of United fans want to see the back of. So how did things change for the worse so dramatically for the man heralded to become the next United great and why is there so much animosity towards the young man all of a sudden?
Well, football is an extremely result-based business and unfortunately for Cleverley, he has just not produced enough on the pitch to back up his initial hype over the last few years. Now already 24, the midfielder can no longer hide behind the mask of promise and needs to start delivering on a consistent level.
Admittedly, Cleverley has not become a bad player overnight, but he needs to be doing much more to warrant a regular place in the first team for a team as big as United, with a fan base that rightfully demands success from their beloved side.
Although it is hard to argue with the fact that Cleverley has been below par, it has to be said though, that the criticism coming his way this season has been a bit unwarranted. There was news that a group of Manchester United fans started a petition to demand United to sell the midfielder, which is simply ridiculous.
Yes, Cleverley has not been performing well, but so have more than half of the United team this season. People tend to point fingers when things are not going well, and while Moyes is the man to face the criticism off the pitch, Cleverley is being made the scapegoat for United's failures on it.
All is not lost for Cleverley though, if United's fortunes turn around, then the criticism aimed at him will certainly be less venomous.
Therefore, Cleverley should now look to weather the storm, put his head down and work hard, accept that criticism will always be part of a footballer's life, and most importantly, hope that he can resurrect his once promising looking career by hitting back with drastically improved performances on the pitch.
What do you think? Is Cleverley's time at United up after losing the faith of the fans, or is he just being unfairly victimized for United's failures this season?