During the midweek, two important events happened at Old Trafford.  First, the debut of the club's record transfer signing; the new '8', Juan Mata.  Second, Robin Van Persie returned to the squad after seven weeks spent on the sideline following an injury.
All eyes were on the Spanish midfielder, but the player for which Manchester United supporters really have reason to be happy about is RVP. The Dutch striker scored his 11th goal of the season, and launched a much needed wind of change for the reigning champions. Perhaps, with some new signings at the end of the January transfer window, David Moyes can have a better chance at leading the team to a place which can guarantee at least qualification for the Champions League next season.
Although, judging by the numbers, it should not be a problem for United to finish the season in 4th place with or without more reinforcements. Since joining the club one-and-a-half seasons ago, Van Persie played in 50 out of 61 league games. In those 50 games, the Red Devils won 35, drew 7 and lost only 8 matches; scoring 105 goals and conceding 53. In the other 11 games without the Dutch star, the squad won 5 times, lost 4 games and drew in 2 matches.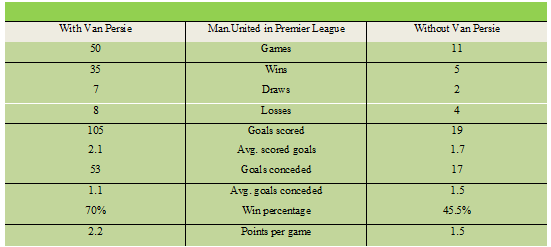 Manchester United's numbers with Van Persie on the field are extraordinary.  Considering the bad first semester the team had demonstrates that United is in grave need of a healthy RVP.  With the return of the Dutch player, fans at Old Trafford can now dream of their team playing in the same form as last season when they won the title.
RVP may or may not be the ingredient necessary to fix Moyes' disappointing debut with the Red Devils. One thing is for certain though, it is time for United to reach their top form in their aspiration for a Champions League seed.