The Pachuca vs Xolos Tijuana Liga MX match will be held this Saturday, January 18, 2014 (5:00 PM Pacific) at the Estadio Hidalgo.  This Week 3 match of the Clausura 2014 will be an interesting contest as the host Pachuca will attempt to earn their first win in the season.  As for Xoloitzcuintles, they will try to keep their goal intact, and keep their good run alive.
The team coached by Enrique Meza once again has had a disappointing start to another season.  As usual, the off-season for Pachuca was made of transferring many players away from the club, while also bringing many others.  That has been a big issue for the 'Tuzos' as the new players have yet to learn how to play in top form together.  After the first two games, Pachuca has yet to score a goal, and have tied one and lost the other.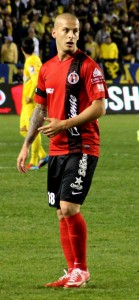 Xolos of Tijuana has been a nice surprise thus far after the first two weeks of the Clausura 2014.  The team lead by coach Cesar Farias has gained 4 points, tying their first against Atlas 0-0, and winning last week against Club America 1-0.  The border team has had some issues finishing the scoring plays, but their midfield and defense has been outstanding.  Xolos has not received a goal after two matches, and they have a good chance of keeping that rhythm intact when they face Pachuca who has no goals this season.
Pachuca vs Xolos Tijuana Prediction
Pachuca is in danger of falling off playoff contention this early into the season if they lose on Saturday.  With a loss, the 'Tuzos' would show that they are not yet in form to compete for great things, which would only raise doubts as to how long it would take for them to become competitive.  With a win, then Pachuca would be right in the battle for the top positions.
As for Club Tijuana, they will be without Fernando Arce (suspension), Joe Corona (ankle), and Jaimen Ayovi (leg).  Defender Hernan Pellerano who left the last game also with an injury seems to be in form to participate in this weekend's match, which would greatly aid Xolos to defend their goal's perfect run.  Lastly, forward Dario Benedetto is back after serving his two game suspension and could play his first match along Fidel Martinez up top.  The absences in the midfield will hurt Farias, therefore Xolos will play on the counter-attack to have a stronger possession of the ball.
In what will be a great match, Pachuca will end their scoreless run, but they will fail at earning their first win in the Clausura 2014. The Pachuca vs Xolos Tijuana match will end in a 1-1 draw.
Pachuca vs Xolos Tijuana TV Schedule
The Pachuca vs Xolos Tijuana match will be televised on Univision Deportes at 5:00 PM Pacific.
Pachuca vs Xolos Tijuana Highlights
The Pachuca vs Xolos Tijuana video highlights will be uploaded soon after the end of the match.