The anticipated Xolos Tijuana vs America Liga MX Week 2 match will take place this Friday, January 10, 2014 (7:30 PM Pacific) at the Estadio Caliente.  In what is one of the two must-watch games of the week, Xoloitzcuintles de Caliente will host the 'aguilas' in a game between two playoff contenders.  Apart from the magnitude Club America creates when they visit the northern city, this match will be the debut of Cesar Farias at home, and the first time Antonio 'Turco' Mohamed returns to Tijuana after leading Xolos to a championship and a good Copa Libertadores run.
It is only the second week of the Clausura 2014, and already Xolos face one of the biggest and most significant games of the season.  The team coached by Farias will host the most succesful team from last year, in an game where Xolos is pressured to win.  Club Tijuana tied last week against Altas 1-1, in what ended being a disappointing and boring match.  The border team was ineffective on offense, while the defense looked established and did not suffer the away transfer of Pablo Aguilar who moved to Club America.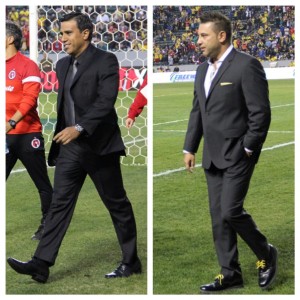 The visiting team, America, began the season on the right track last Saturday after they won 3-0 against the always difficult UANL Tigres.  The team coached by Mohamed used the same formation which was mastered by his predecessor Miguel Herrera throughout last year.  The 'aguilas' will have a difficult visit at the Estadio Caliente not only due to the synthetic turf which becomes difficult to visiting teams, but also because Xolos has not lost a home game since Week 13 of the Clausura 2013 when Mohamed was still the coach.
Xolos Tijuana vs America Prediction
The Xolos Tijuana vs America match will be played in a great atmosphere where the local fans will express mixed emotions towards Turco Mohamed.  In one way, Mohamed has been the most respected figure in Club Tijuana's short history, and in another aspect, he now coaches the most hated team in Mexico.
As for the game, both sides are still learning how to play under their new coach's tactics.  Therefore, expect Xolos to play a 4-4-2, focusing on controlling the ball and playing conservatively.  As for America, they are the favorites because the team will play very similar to how the team played under ex-coach Miguel Herrera.  The Xolos Tijuana vs America match will end in a 2-1 win for the visiting team, ending Tijuana's undefeated streak at home of more than a season.
Xolos Tijuana vs America TV Schedule
The Xolos Tijuana vs America match will be televised this Friday, January 10, 2014 on ESPN Deportes and Azteca America at 7:30 PM Pacific.
Xolos Tijuana vs America Highlights