The Atlas vs Xolos Tijuana match will be held this Saturday, January 4, 2014 (7:00 PM Pacific) at the Estadio Jalisco.  Club Atlas and Xoloitzcuintles begin a new era when the Clausura 2014 begins.  On one side, the 'Zorros' will play their first official match under their new ownership lead by Grupo Salinas, which in other terms is TV Azteca.  Meanwhile, Xolos will have their first game with new Venezuelan coach, Cesar Farias, who comes to the border team with high expectations.
Club Atlas has been the most remodeled team during the off season.  After being sold to TV Azteca, the team from Guadalajara finally has the financial security necessary to survive in a league as competitive as the Liga MX.  Therefore, 'survival' from relegation is not only the first goal by the team, but also to become title contenders.  In order to elevate their level of talent, the 'Rojinegros' signed Federico Vilar and Enrique Perez from their sister team Monarcas Morelia.; while also signed Jorge Gastelum from Pachuca, and Maikon Leite from Palmeiras.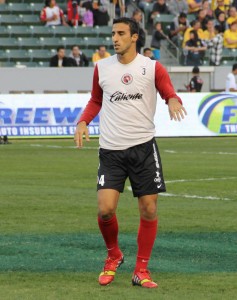 Club Xoloitzcuintles de Caliente had a very disappointing campaign in the Apertura 2013.  The team never reached high form under Jorge Almiron, causing fans and management to greatly miss what was done by Antonio Mohamed.  In order to become title contenders once again, Xolos signed Farias who is considered a high caliber manager in South America.  The Venezuelan 'Mourinho' will have the pressure to lead Tijuana into the top of the standings, and well as winning the CONCACAF Champions League.
To improve their roster this off season, Xolos incorporated Jaimen Ayovi who was out on loan with Barcelona (Ecuador) last season.  Also, the team signed defender, and younger brother of Cristian Pellerano; Hernan Dario Pellerano.  The signing of the Argentine defender came after Paul Aguilar left to play for his ex-coach, Mohamed, at Club America.
Atlas vs Xolos Tijuana Prediction
The Atlas vs Xolos Tijuana match has all the ingredients to be one of the best matches in the opening weekend of the Clausura 2014.  There are high expectations for both teams with the debut of Farias for Xolos, and the first match of Atlas under their new TV Azteca ownership.  Both sides have had long preseasons, therefore this match will show in how much form they really have.  The Atlas vs Xolos Tijuana match will be intense, with both sides playing offensively, but the debutant coach never loses; Xolos win 2-1.
Atlas vs Xolos Tijuana TV Schedule
The Atlas vs Xolos Tijuana match will be televised this Saturday, January 4, 2014 on Univision Deportes at 7:00 PM Pacific.
Atlas vs Xolos Tijuana Highlights
The Atlas vs Xolos Tijuana video highlights will be uploaded as soon as the match ends.