José Mourinho seems to have a striker in his mind: Gonzalo Higuaín, now in SSC Napoli. The Portuguese coach wants to reinforce Chelsea's attack, and the Argentinian forward is the option that suits him best. He has demonstrated his great skills in the last years, with excellent performances in Real Madrid and Napoli. In addition, Mou knows him very well from Real Madrid, where Higuaín was a key player in the attack zone.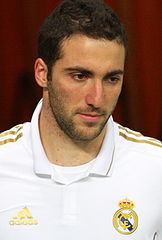 According to the English newspaper The Sun, Chelsea's owner Roman Abramovich is willing to pay  £48 million (the equivalent to €58.5 million) in order to bring Mourinho what he wants to fight for the title in both Premier League, in which Chelsea is at the third place -two points behind the leader Arsenal-, and the UEFA Champions League, in which they'll face Galatasaray in the round of 16.
In the Premier League, Chelsea has scored 33 goals in 18 matches, and although that isn't a bad number, they would have more confidence with a striker like Pipita. In fact, the top goalscorer of Chelsea in that competition is Eden Hazard with only 7 goals in 18 matches, while Manchester City -the team with more goals made so far with 53- has Sergio Agüero with 13 goals in 15 matches, and Liverpool has Luis Suárez with 19 goals in 13 matches. It is a matter of fact that Chelsea needs a striker that can score many goals in order to fight with those teams.
Higuaín has been playing in Napoli for only five months. The Italian team bought him from Real Madrid for € 40 million -by far the most expensive transfer in Serie A in that summer-, and it seems that they're ready to negotiate with Chelsea, because it would mean an €18.5 million profit in a few months [source: DialyMirror]. However, if they sell Higuaín, they'll have to look for another striker if they want to get a place for the UEFA Champions League 2014/2015.
In Chelsea, Higuaín would have to compete for a place in the starting lineup with players like Fernando Torres and Samuel Eto'o, but both strikers aren't in a great moment, so it seems that if the transfer is actually made, Pipita would play from the beginning.  If the rumor becomes true, it would be great news for Chelsea's coach and their fans, as they'll be fighting for the Premier League title until the end for sure.