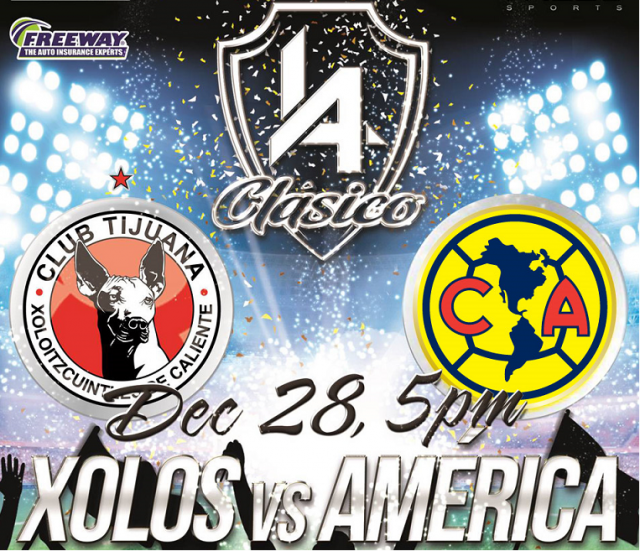 Follow our live commentary of the America vs Xolos Tijuana LA Clasico match that will take place this Saturday, December 28, 2013 (5:00 PM Pacific) at the StubHub Center, in Carson, CA. FutnSoccer will be at the StubHub Center, providing you with the latest info, scores, pictures, and videos from the match. This friendly match will be Turco Mohamed's first, and only preseason game heading into the Clausura 2014 season. For Xolos' Cesar Farias, this match against Club America will also be his last pre-season game, before heading into the Liga MX season.
This edition of the LA Clasico has a little bit extra on the line, given that Turco Mohamed will make his debut with Club America, against the team he last coached in the Liga MX. Turco had three and a half wonderful seasons with Xolos. First, saving the Tijuana based club from relegation, then making an appearance in the playoffs, winning the Liga MX, and finishing off his last season with a deep run in the Copa Libertadores.
After, Turco left Tijuana, stating he missed his family. Turco went on to coach Huracan of Argentina, where he had a terrible season. Leaving after just six months, his availability coincided with Miguel Herrera's departure from Club America, and Turco thus became the new coach at Coapa. Now, Turco has the difficult challenge of living up to the expectations that his predecessor set. Under Herrera, Club America won one championship, one runner-up spot, and two semifinals. Turco will definitely have his work cut out for him.
Cesar Farias will also be expected to bring in results at Xolos Tijuana. The coach he is replacing, Jorge Almiron, was replaced for barely failing to reach the playoffs; the minimum expectations for the Tijuana ownership, apparently, is an appearance in the playoffs. The Mourinho of Venezuela should be able to see how his players function against a talented squad like Club America.
Live Commentary, Score, & Lineups
The section below will be dedicated to provide live commentary on the America vs Xolos LA Clasico.