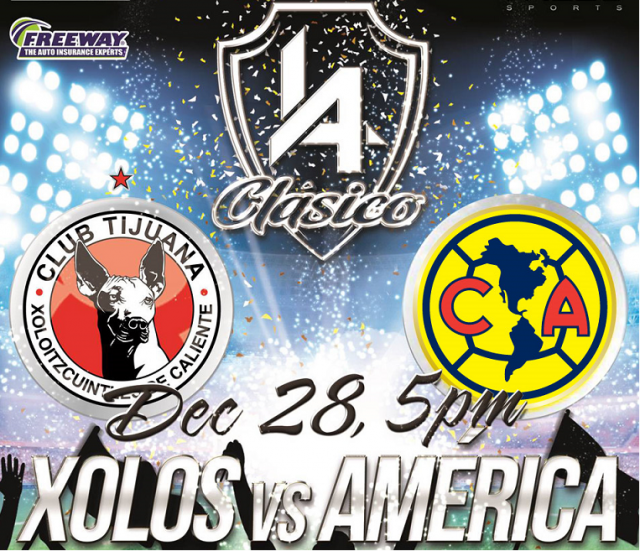 The LA Clasico 2013 will take place Saturday, December 28, 2013 (5:00 PM Pacific) in an exciting match between Liga MX teams Club America, and Xolos of Tijuana.  This preseason friendly will be held at the StubHub Center in Carson, CA, just six days before the start of the Clausura 2014.
The LA Clasico will be a great scenario for fans as it will be the first time both teams face each other in the Los Angeles area.  The friendly will be the last game by Xoloitzcuintles and America prior to their start of the season, therefore the quality of the match will be regular season caliber.  The last occasion Club Tijuana and 'aguilas' met in a friendly was prior to the start of the Apertura 2013 in the San Diego Clasico when Xolos won 5-2.
This December 28, fans of both teams will also have the opportunity to see a pair of new coaches in action.  Xolos of Tijuana signed Venezuelan Cesar Farias after letting go of Jorge Almiron following a disappointing season.  Fans and ownership felt Almiron was never able to meet the team's demands after he replaced Antonio Mohamed who led Xolos to a title and a nice run in the Copa Libertadores 2013.
Ironically, America fans will also be able to see the first big match under the command of their new coach; Turco Mohamed.  The Argentine will debut at the LA Clasico as the new America coach against none other than his ex-club, Tijuana.  It will be interesting to see how the Xolos fans will react against Mohamed; will they cheer, or will they boo?
LA Clasico 2013 Ticket Information
Tickets for the LA Clasico 2013 at the StubHub Center for the December 28, 2013 (5:00 PM Pacific) match are available starting from $27.00.  You can purchase tickets to the event online here.