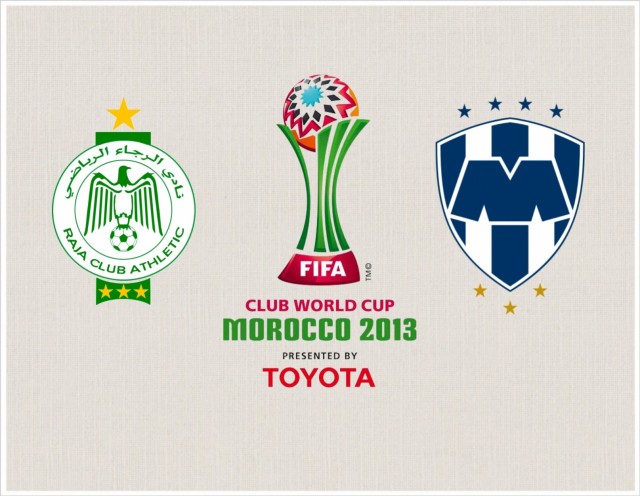 The Monterrey vs Raja Casablanca FIFA Club World Cup match will take place this Saturday, December 14, 2013 (11:30 AM Pacific) at the Agadir Stadium.  Monterrey is ready to begin their 3rd consecutive clubs World Cup experience when they play the Moroccan hosts, Raja Athletic Club.  The Liga MX side has the goal of reaching the final, therefore their first match in the quarterfinals against Raja will be played with great pressure.
The team coached by Jose Guadalupe Cruz has not played an official match since November 9, which was the last regular season week in the Liga MX.  Monterrey will play in their third consecutive tournament, where in their last participation they finished in 3rd place after being eliminated by Chelsea in the semifinals.  This time around, the players are much more experienced for this competition, and although they did not have a good semester, they have the necessary talent to become a title contender.
Raja Casablanca reached the quarterfinal against Monterrey after defeating Auckland City from New Zealand in the previous round (2-1 score).  The team from Morocco is the underdog from now on in the competition, however, they will use their title as hosts, and their fan support to attempt and do great things.  In the match against Auckland City, the Agadir Stadium was sold to its capacity, while the fan atmosphered resembled things one would see in places like Brazil, Argentina, or even Monterrey.
Check out the stadium atmosphere Monterrey will face (Images from match against Auckland City):

Monterrey vs Raja Casablanca Prediction
The Monterrey vs Raja Casablanca match will be played in a wonderful, intense scenario, where the home fans will create a lively atmosphere throughout the game.  Monterrey has the upper-hand in this game as they have the better talent, and better experience in this FIFA Club World Cup competition.  However, Raja has the pressure to perform well as they will have the support of their stadium, as well as the pressure of being tournament hosts.  While the game will be a great one, Monterrey will be the better side and will qualify into the semifinals after a 3-1 win.
Monterrey vs Raja Casablanca TV Schedule
The Monterrey vs Raja Casablanca match will be televised this Saturday, December 14, 2013 on FOX Deportes and FOX Sports 2 USA at 11:30 AM Pacific.
Monterrey vs Raja Casablanca Highlights