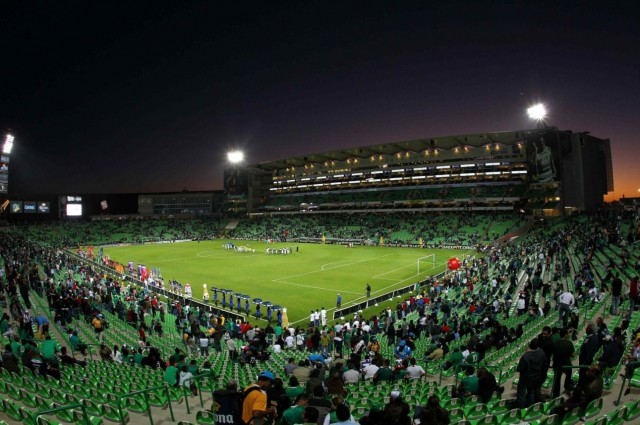 The Santos Laguna vs Leon second leg semifinal match ended in a 2-2 draw this Sunday, December 8, 2013 at the Estadio TSM Corona.  With that tie, the aggregate score ends at 5-3 in favor of the 'panzas verdes', which in turn gives them the ticket into the Apertura 2013 grand finale.  Earlier on Sunday, Club America defeated Toluca 2-0, meaning the championship series will be between America and Leon next week.
The game in Torreon began with Santos creating the most offensive opportunities, as they entered the game knowing they had to win by two goals.  The first half was dominated by Santos, although this was allowed by Leon who styled a counter-attacking tactic.  The first 45 minutes had several close scoring chances, although there were no goals.
As soon as the second half began, Santos was much more aggressive and assertive on offense.  Shortly in the 51st, Oribe Peralta took advantage of a loose ball while on a counter-attack, and scored a nice goal.  With the 1-0 lead, Santos still had to score one more goal to reach the final as Leon had won 3-1 in the first leg.
To the home team's misfortune, Leon quickly tied the match in the 56th minute following a nice run and cross from Matias Britos.  Striker Mario Boselli was left alone on the middle, and the Argentine scored a nice goal over Oswaldo Sanchez.  That goal great affected Santos, who stopped attacking, thus looked as if they had given up on any hopes of winning the semifinal.
In the last ten minutes, Pedro Caixinha went on full-attack tactics, but that hurt his side as Leon scored the 2-1 lead after another counter-attack; this time Carlos Peña scored on a wonderful one-on-one.  To end the game, Santos scored the tying 2-2 after a penalty shot.
With the win, Leon reached the final only one year after returning to the Liga MX.  They will face the giants Club America in what should be an outstanding final between two great offenses, and defenses.
Santos Laguna vs Leon 2-2 Highlights