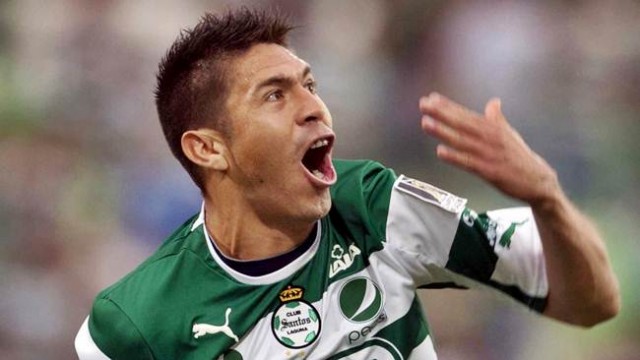 The second leg of the Santos Laguna vs Leon liguilla semifinal will be held this Sunday, December 8, 2013 (6:00 PM Pacific) at the Estadio TSM Corona.  During the first leg, Club Leon took a great lead on the aggregate score by winning 3-1.  With that, Leon is the great favorite to qualify into the Liga MX Apertura 2013 final, while Santos will have to win 2-0, 3-1, or by more than 2 goals to defeat their rivals.
Santos Laguna had a terrible performance at the Estadio Nou Camp this past Thursday, when they lost 3-1 in the first leg of the semifinals.  That game was expected to be a close contest between to strong title contenders, but with that result, the 'laguneros' are now far away from reaching the final.  In that match, the team lead by Pedro Caixinha, seemed very slow on defense as Leon's midfield easily took advantage of under performing defenders like Felipe Baloy.  Leon's aggressive midfield lead to the three goals which today have Santos in a bad situation.
This Sunday, Santos cannot afford to perform weakly on defense, as they cannot conceive any more goals.  Players like Darwin Quintero and Oribe Peralta have the huge responsibility of leading their offense where they will have to score at least two goals.  While the task seems difficult, Santos is a great team at home, and scoring an early goal could move things into their favor.
While Leon is winning 3-1, they are also in a lot of pressure, and holding the Santos offense will be a tough test.  The 'panzas verdes' will have to decide if they will play offensively, or if they will style a counter-attacking tactic in order to detain the opponent's offensive aggressiveness.
The team coached by Gustavo Matosas has all the momentum in their favor, but they lived a similar situation one year ago when they were winning the semifinal against Xolos of Tijuana 2-0.  In that case, all Leon had to do in the second leg was to score a goal, but instead they received three, and Xolos ended winning the Apertura 2012.  This Sunday, Leon has more talent and more experience, therefore that time in Tijuana will be difficult to return.
Santos Laguna vs Leon Prediction
The Santos Laguna vs Leon second leg semifinal match will be a great game between two title caliber sides.  Leon has a good two goal lead, where scoring once will force Santos to score three times; scoring twice forces the 'laguneros' to score five goals.  Therefore, the pressure lies on the home team, as they have to score at least two times in order to have a shot at reaching the final.
While Leon will play to contain the opponent, they will play on the counter-attack.  Meanwhile, Santos will play offensively throughout the match, which will create a very open match.  In a good game, Leon will score a goal, while Santos will not be able to score three.  The Santos Laguna vs Leon match will end in a 2-1 win for the home team; 3-4 on the aggregate in favor of the 'panzas verdes'.
Santos Laguna vs Leon TV Schedule
The Santos Laguna vs Leon second leg match will be televised this Sunday, December 8, 2013 on Univision at 6:00 PM Pacific.
Santos Laguna vs Leon Highlights
The Santos Laguna vs Leon video highlights will be uploaded as soon as the match ends.