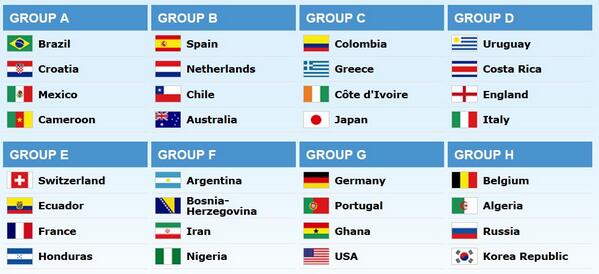 The Brazil 2014 FIFA World Cup Final Draw took place this Friday, December 6, 2013 in Costa do Sauipe, in the state of Bahia.  The 32 participating teams can finally known their groups, opponents, dates, and match venues, seven months before the start of the World Cup.  With this, the pressure arises amongst teams and fans in what will be a memorable Brazil 2014.
Brazil 2014 World Cup Groups
Group A: Brazil, Croatia, MEXICO, Cameroon
Group B: Spain, Holland, Chile, Australia
Group C: Colombia, Greece, Ivory Coast, Japan
Group D: Uruguay, COSTA RICA, England, Italy
Group E: Switzerland, Ecuador, France, HONDURAS
Group F: Argentina, Bosnia-Herzegovina, Iran, Nigeria
Group G: Germany, Portugal, Ghana, USA
Group H: Belgium, Algeria, Russia, Korea Republic
Tough Luck for CONCACAF Teams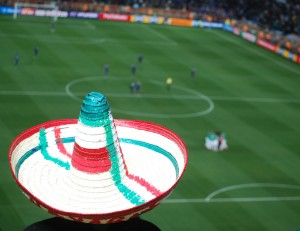 Before the draw, it was known that this World Cup could be one of the most difficult in history considering the great strength most teams will bring into the competition.  With this in mind, CONCACAF teams knew they could be part of 'groups-of-death', while there was chance of forming groups with easier teams.
After the draw, the four CONCACAF teams now know that this World Cup will not be an easy contest.  Mexico is once again (like South Africa 2010) part of Group A, where they will have to face the host Brazil, African giants Cameroon, and FIFA ranked #16, Croatia.  While the picture seems grey, Mexico could fight to get out of this group in second place.
Costa Rica played an excellent qualifier, but they now face a terrible reality: the "Group of Death".  The 'ticos' (Group D) will face none other than Uruguay who finished last World Cup in 3rd place; England who is always a favorite to win any tournament they compete in; and Italy who has won 4 World Cups.  Sadly, they are the huge underdogs in this group, and they will be lucky to win a point.
Meanwhile, Honduras obtained the 'easiest' group from amongst the four CONCACAF teams in this World Cup.  The 'catrachos' form part of Group E and will face Switzerland, Ecuador, and France.  While this is the 'easiest' group for any CONCACAF side, Honduras will have a very difficult time in the World Cup as Switzerland is ranked 8th in the world; Ecuador has improved drastically over the years and playing near home will make them bigger; and France is simply France (a title contender).
Now for the United States, that is just bad luck.  The team coached by Jurgen Klinsmann faces the second most difficult group of the competition while in Group G.  The will play Cristiano Ronaldo and Portugal – a title contender.  They will play Germany – a STRONG title contender.  Also, they face Ghana, considerably the best African team at the moment, and who historically the USA cannot defeat.
The CONCACAF teams have a tough task coming in June of 2014; however, nothing is impossible, and by facing teams, it will be a great chance to show the world that the quality in the continent has improved drastically.  If Mexico get out of Group A, it will demonstrate that playing in the World Cup was no fluke.  If Costa Rica survives Group D, well, title contenders?  If Honduras earns a pass into the Round-of-16 it will be historical for their nation.  And if the USA qualifies into the next round, then it will be a sign of extreme progress in soccer for a soccer 'hating' country.