ARENA FONTE NOVA
City: Salvador, Bahia
Capacity: 55,000
Cost: R$592 million
Inauguration: April 5, 2013
Brazil 2014 Matches:
June 13, 2014 – Match 3, Group B, Spain vs Holland
June 16, 2014 – Match 13, Group G, Germany vs Portugal
June 20, 2014 – Match 25, Group E, Switzerland vs France
June 25, 2014 – Match 44, Group F, Bosnia-Herz. vs Iran
July 1, 2014 – Match 56, Round of 16, 1H vs 2G
July 5, 2014 – Match 59, Quarterfinals, W51 vs W54
Host City: Salvador, Bahia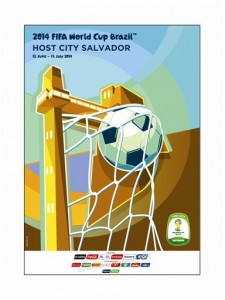 The Arena Fonte Nova is one of the twelve host stadiums in the upcoming Brazil 2014 World Cup.  Located in Salvador, the capital of the northeastern state of Bahia, the 'new' Fonte Nova will host six matches in what is expected to be one of the best World Cups in history.
The stadium which seats up to 55,000 fans, was built on the grounds where the old Estadio Fonte Nova used to stand.  The previous stadium was inaugurated in 1951, however, due to its age, poor conditions, and unfortunate fan accidents, it was demolished.  In its place, a beautifully, blue seated construction was built next to the 'Dique do Tororo' pond, near the heart of Salvador.
The Arena Fonte Nova, like its predecessor, are home to the two Brasileirao Serie A teams of Salvador; Bahia and Vitoria.  These two teams divide the city of 3 million people in a classic labeled the "Ba-Vi".  This strong rivalry magnifies and represents the strong passion the city has for the beautiful sport of soccer which will be evident throughout the World Cup.
The city of Salvador is ready to be part of the most prestigious sporting event on the planet.  The historic city (founded in 1549 as Brazil's first capital) known for its Afro-Brazilian culture, will provide fans with unique traditions, tropical beaches, unique food, and monumental colonial structures.