The Liga MX team, Chivas of Guadalajara, announced this Wednesday, December 4, 2013, that they have signed midfielder Israel Castro.  The 32 year old player formed part of Cruz Azul since 2011, where he established himself as a defensive midfielder.  With his signing, Chivas has addresses a much needed problem in their midfield, while it is still expected for them to sign several more players in this transfer season.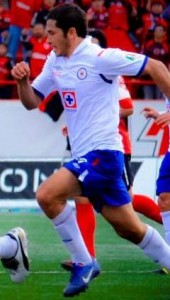 The signing of Castro came as a big surprise to followers, as Chivas owner, Jorge Vergara had announced earlier in the day that Tigres defender, Carlos Salcido, was already signed to Chivas.  Followers expected for the big transfer announcement to officialize the deal which would take Salcido to Chivas in exchange of Luis Michel and another player to be named.  While that did not happen, it is still a possibility for the 'rebaño' who must reinforce their defensive line, attacking midfield, and goalkeeper.
What does the signing of Israel Castro mean for Chivas?
While Castro is a top Liga MX midfielder, he is already past his prime years.  The midfielder began his career in UNAM Pumas where he played as a right defensive wing, and where he won 3 titles.  In 2011, he moved to Cruz Azul, where he was also successful, most recently reaching the Clausura 2013 final.  The player has a long successful career with a World Cup participation under belt, but, will he improve Chivas?
While he is not the same player he was 3 years ago, he is still a great improvement over Patricio Araujo in that Chivas defensive midfield.  The idea with this, is that he will play along Jorge 'Chaton' Enriquez, where his experience and maturity will allow a team with young midfielders to mature.  Overall, this is a good, but not great signing for a team who is still far from done in this transfer season.