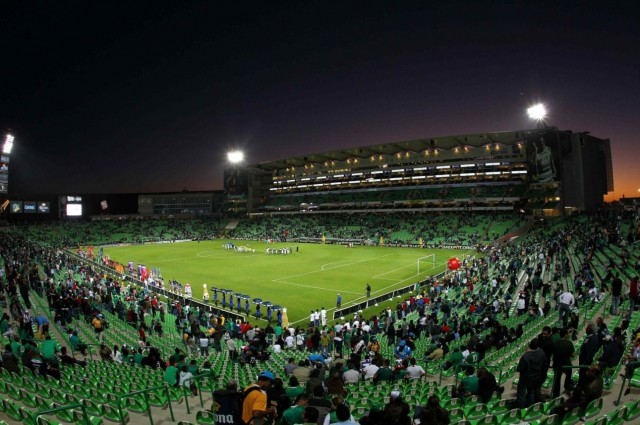 The Santos vs Queretaro second leg match will take place this Sunday, December 1, 2013 (6:00 PM Pacific) at the Estadio TSM Corona.  The first leg of this 'liguilla' series ended in a 3-2 win for Santos Laguna, leaving Gallos Blancos with no other option than to win.  That goal margin, and the pressure Queretaro will have to play offensively will lead to an exciting match of offensive tactics.
Although Santos is winning the series 3-2, they have to play the second leg as if they were tied.  In the last match, the game became much complicated after they were winning the match, which shows that they could become a bit vulnerable on the defensive line. This Sunday, star Oribe Peralta will be 100% physically ready as he's had enough days away from the jet-lag in the trip to New Zealand.
In order for Santos to qualify into the semifinals, they have to win or tie by any amount of goals, or even lose by a margin of 3-2 or less.  In other words, they have to lose by 2 or more goals, or a 4-3 score.  Considering how well Pedro Caixinha's team has performed throughout the season, Santos is the huge favorite to win this Sunday.
The Gallos Blancos are in a very difficult situation as they have to visit one of the best teams in the league, and defeat them.  That seems like a very complicated scenario, however, the team coached by Ignacio Ambriz has demonstrated to fight until the last minute.  While they are the underdogs, if they were to qualify into the semifinals, they will play either Club America or Leon.
Santos vs Queretaro Prediction
The Santos vs Queretaro playoff quarterfinal match will be a great contest as both teams will try to play offensively.  Queretaro is forced to win by two goals or more, as a tie or a loss will eliminate them.  Therefore, they will play with the purpose of scoring early goals, while Santos could play more conservatively.  While Queretaro will be a good opponent, Santos is the better team, with the home advantage.  The Santos vs Queretaro match will end in a 1-1 tie, giving the locals the pass into the semifinals.
Santos vs Queretaro TV Schedule
The Santos vs Queretaro match will be televised this Sunday, December 1, 2013 on Univision Deportes at 6:00 PM Pacific.
Santos vs Queretaro 3-1 Highlights