The Portugal vs Sweden World Cup qualifier will take place this Friday, November 15, 2013 (11:45 AM Pacific) at the Estadio do Sport Lisboa e Benfica.  In the most anticipated match of the UEFA playoffs, Portugal and Sweden will play a two leg series for one of the last tickets into Brazil 2014.  Both nations have enough talent to not only reach the World Cup, but also to reach great lengths in such tournament.  Unfortunately, in what others have also titled the Ronaldo vs Ibrahimovic series, only one will obtain a ticket.
Portugal has a huge task this Friday when they host Sweden and Zlatan Ibrahimovic in an attempt to take a step into next year's World Cup.  The 'lusos' will look to qualify into their third straight World Cup, but to do so, they will need to play a perfect defensive game, while at the same time utilize the skills of their leader, Cristiano Ronaldo.  The team coached by Paulo Bento finished in second place of Group F behind Russia with 21 points.  While their group was not one of the most competitive, they had a good +12 goal differential.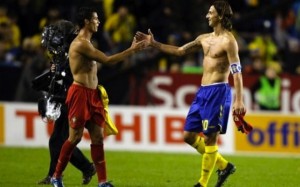 Like Portugal, Sweden will also have a tense Friday, as they will have the pressure to defend against a powerful opposing defense.  With the knowledge that they will close the series at home, the team coached by Erik Hamren has to play conservatively, and attempt to win the playoff in Sweden.  This team had a very difficult qualifier as they were part of Group C which in theory had four World Cup hopefuls.  They finished second in the group with 20 points behind Germany, and a goal differential of +5.
Portugal vs Sweden Prediction
The Portugal vs Sweden UEFA World Cup playoff will be as intense as it could be.  This is a match that in theory will have the feeling of a championship game, and while it is only the first leg, both teams will play to contain the opponent.  Ronaldo and Ibrahimovic will be the focal points by fans and opposite defenders, as these two strikers could decide the game with a single opportunity.
Friday's qualifier will be played defensively by both sides because neither will want to give enough room to allow the opponent to leave the first leg with a goal advantage.  However, if one team is to play more offensively, it will be Portugal who will need to take advantage of their home support.  It what will be one of the best matches in all of the FIFA qualifiers, the Portugal vs Sweden match will end in a 2-1 win for the home side.
Portugal vs Sweden TV Schedule
The Portugal vs Sweden match will be televised this Friday, November 15, 2013 on ESPN Deportes at 11:45 AM Pacific.