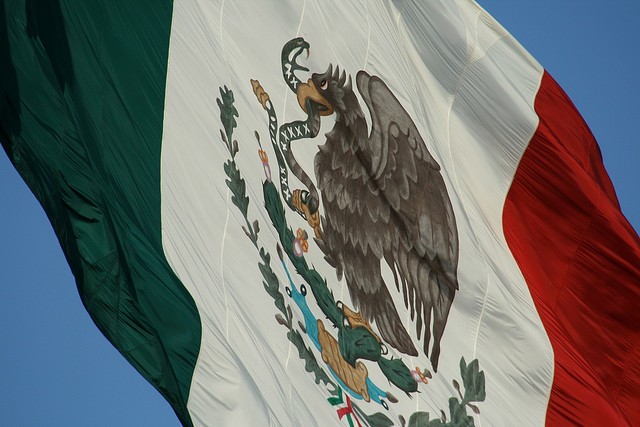 The first leg of the Mexico vs New Zealand intercontinental playoff match held in Mexico City ended in a decisive 5-1 victory for Mexico. With the aggregate score so much in their favor, El Tri  would have to lose by 4 goals in Wellington in order to not make it to the World Cup. Unless a miracle happens, it appears Club America and Miguel Herrera have accomplished their goal, get Mexico to the World Cup.
New Zealand came into the game with the strategy of parking the bus, placing 11 men behind the ball, hoping to keep the scoreline as low as possible. This strategy appeared to be working early on in the first half, where Mexico only created a few clear scoring opportunities in the first 25 minutes.
The first real chance for Mexico came in the 11th minute, when Raul Jimenez saw the New Zealand keeper off his line and took a shot, only to be stopped by the keeper. On the 18th minute, Raul Jimenez showed up once again, this time with a diving kick that was barely stopped on the line. Eight minutes later, Jimenez would go on to miss a one-on-one opportunity with the goalkeeper, where he smashed it into the keeper.
Mexico was completely dominating the match, and the possession would finally reward Mexico with a goal in the 31st minute, where Paul Aguilar scored the 1-0 goal off a deflection inside the box. After the first Mexican goal, the New Zealand defense faltered, allowing Mexico to create many more scoring opportunities.
In the 38th minute, Raul Jimenez attempted a diving scorpion kick, that was deflected by the keeper. The ensuing corner kick allowed Mexico to score on the 39th minute via a header from none other than Raul Jimenez, who was making a strong case to become the MVP of the match.
The first half would end with Mexico leading 2-0, and the Cielito Lindo being heard from the stands.
New Zealand started off the second half with a much more offensive formation, this strategic change would prove to be a costly mistake. Mexico scored almost immediately in the second half. On the 47th minute, Rafa Marquez put in a long pass to Layun, who then passed it to Oribe Peralta, tapping it in for the 3-0 lead.
Peralta would go on to score again the 79th minute via another cross in from Layun, making it 4-0 for El Tri. The 5-0 goal came in on the 83rd minute via Rafa Marquez, who headed it in off a corner kick. New Zealand would go on to score their lone goal of the match in the 84th minute, on some sloppy Mexican defending.
With the decisive 5-1 victory, it appears the match in Wellington will be nothing more than a formality. Miguel Herrera's gamble of just using Liga MX based players appears to have paid off.
Mexico will be in the World Cup.