The Mexico vs New Zealand Intercontinental playoffs are set to begin when 'El Tri' hosts the 'All Whites' at the majestic Estadio Azteca this Wednesday, November 13, 2013 (12:15 PM Pacific).  Along with the more than 6,900 miles (11,100 km) that separate Mexico City and Wellington, comes a huge division in different lifestyles, history, language, and soccer cultures.  Considering the opportunity FIFA gives the world with intercontinental playoffs, here are important aspects of Mexican soccer and their tactics which will allow New Zealand fans to understand this wild-card with a brighter perspective.
Mexico in World Soccer
The 'tricolor', although not considered an elite team, is a regular participant in FIFA's main tournaments.  Mexico has a rich history in the sport with 14 World Cup performances, and 6 Confederations Cups.  In all, 'el tri' has obtained 1 Confederations Cup title, 9 Gold Cups, 2 Copa America Runner-Ups, and recently won the Olympics Gold medal in London 2012 (a non-FIFA tournament).
Mexican Soccer in Economics
Soccer, or futbol, in Mexico is the biggest and most loved sport. With an official population of 112 million, plus another estimated 30 million in the United States, fans allow for the game to become a huge economy.  On a domestic level, television networks fight for the rights to broadcast teams from the Liga MX like Chivas or Club America.  Those networks will pay into the millions of dollars both in Mexico and in the USA to show that team every fifteen days.  Now, in terms of the national team, those numbers are multiplied.
Considering Mexico is a huge soccer nation, when the team plays in the World Cup, even those who do not follow the sport become fans for a month.  In schools classes are stopped in order to show the games, offices will make small parties for those two hours, main avenues will be shut down because huge screens are set up for the public, people organize 'carne asadas', and so forth.  In other words, the 140 million Mexicans become a huge economic reality during the World Cup.  If Mexico were to lose against the 'All Whites', not only would it be a huge loss for the fans, but also an estimated $600 million loss to that nation.
Mexico Roster against New Zealand
Mexico's coach, Miguel 'el Piojo' Herrera, named 23 players for the wild-card games against the 'kiwis'.  It needs to be understood that Herrera took power of the team almost one month ago after Mexico lost to Costa Rica in the last game of the World Cup Qualifiers.  The Federacion Mexicana de Futbol (FMF), named four coaches in a lapse of one month following a series of extremely poor results.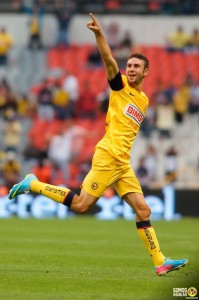 There was some controversy following Herrera's roster call-up as he did not include any of the talent currently based in Europe as is the case of Javier Hernandez, Andres Guardado, Giovani Dos Santos, or Guillermo Ochoa to name a few.  Although controversial, his decision comes with intelligence analyzing he will use 10 of his Club America players.
By using only Liga MX players, Herrera was able to practice with the same squad for three straight weeks.  Also, that allowed to throw away any doubt of 'Europeans' not understanding the new tactics in time, or for them to not adjusting to the Mexico City altitude.
Mexico Tactics against New Zealand
Miguel Herrera will use 7 Club America players in the starting lineup this Wednesday against New Zealand.  With that in mind, not much will change from the 5-3-2 formation he uses at the club level.  That formation is understood to perfection from his players, who are very rapid, and who use a very vertical attack system.  Expect Mexico to play offensive, with Miguel Layun on the left side, and Paul Aguilar on the right.  The two offensive midfielders, Carlos Peña and Luis Montes will provide forwards Raul Jimenez and Oribe Peralta with good amounts of scoring opportunities.  This system survives by playing on the wings when in possession of the ball, and through the middle, while on the counter attack.  Note: Club America recently earned the best defense in the Liga MX, and second best offense while using the same system.
What to expect this Wednesday?
The Estadio Azteca is one of the most historic stadiums in world soccer.  The 'Azteca' will have 105,000 fans who will give it their all to create the most pressure on the New Zealand players who may not be used to such atmosphere.  While it has been commented on articles that Mexican fans could become hostile throughout the game against opposing players, it needs to be understood that that is not the case at the Azteca stadium.  While there have been incidents of violence at such historic place, Mexican fans are not known for violent aggression against rivals.  Unfortunately, it is expected that they will 'boo' the rival national anthem as is the normal 'disgraceful' custom.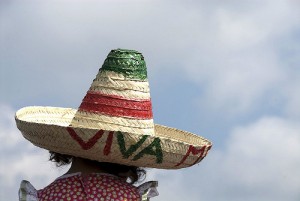 Moreover, apart from the outstanding atmosphere, New Zealand will have to prepare for the high altitude of 7,500 feet (2,500 m).  This will be crucial in the first 20 minutes of the game, as that is how long it will take the 'All Whites' to adapt to both altitude and fan pressure.  Considering the circumstances, New Zealand will play in one of the toughest atmospheres and situations ever exposed to them in their history.
Mexico will play with all their power as not only do they have the pressure to not fail, but also the knowledge that a loss means they let down 140 million people and $600 million.  Expect Wednesday's game to be historic, with Mexico playing offensively and intelligently.  With luck, the 'All Whites' will leave the Aztec nation with a loss of only one goal.