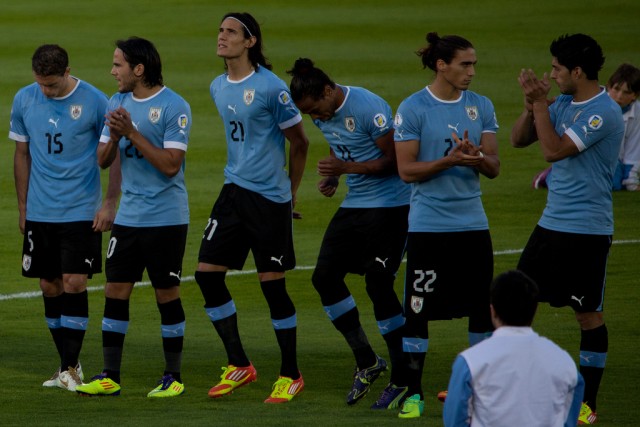 The Uruguay vs Argentina CONMEBOL World Cup qualifier will take place this Tuesday, October 15, 2013 (4:30 PM Pacific) at the Estadio Centenario in Montevideo, Uruguay. This match will have high implications for the Uruguayan national team. Uruguay enters this match needing a strong victory and a winner in the match between Chile vs Ecuador in order to avoid playing a play-off against the national team from Jordan. Argentina on the other hand enters this match having secured the number 1 overall seed in the CONMEBOL World Cup qualifiers.
Uruguay currently sits in 5th place with 22 points and a -1 goal differential entering their last game of the qualifiers. They are searching to catch either Ecuador (3rd place, 25 points, +5 goal differential) or Chile (4th place, 25 points, +3 goal differential) but they will need to win big against Argentina and hope that the Chile vs Ecuador match does not end in a draw. Uruguay knows their current scenario entering this match but they have not lost hope in finding a way to move up to 4th place. Uruguay will come out looking to be aggressive and with two world class strikers in Edinson Cavani and Luis Suarez anything is possible. Although their chances to qualify directly are slim, a victory against Argentina would give them the momentum needed in the play-off match against a Jordan national side that should not pose much of a threat.
Argentina will once again be without Lionel Messi and Gonzalo Higuain who are out with injuries. Coach Alejandro Sabella will also be resting Sergio Aguero and Angel Di Maria giving other players like Erik Lamela a chance to show his coach what he can do out in the field. Despite missing some of their familiar faces against Peru, the Argentines showed the type of roster depth that they have by still playing the same explosive football. Ezequiel Lavezzi, who started in place of Higuain in the last match, finished with a brace and will continue to show his capabilities. This match has the potential of being a high scoring affair and should be one of the most interesting matches that we have had in these qualifiers.
Uruguay vs Argentina – Prediction
Uruguay will look to leave it all on the line in this match against Argentina. Despite being in a hole, Diego Forlan has emphasized that anything can happen in sports, and Uruguay still hopes to find a way to reach that 4th spot to qualify directly. Argentina, who is currently ranked 2nd in the FIFA rankings, will look for a victory in order to remain that far up in the rankings. This will be important for the Argentines, as they look to have one of the top seeds for next years World Cup. The Uruguay vs Argentina match will end in a 2-1 victory in favor of the Uruguayans; which will most likely send the Uruguayans to a 2 play-off match against Jordan.
Uruguay vs Argentina – TV Schedule
The Uruguay vs Argentina will take place on Tuesday, October 15, 2013 on beIN Sport at 4:30 PM Pacific.