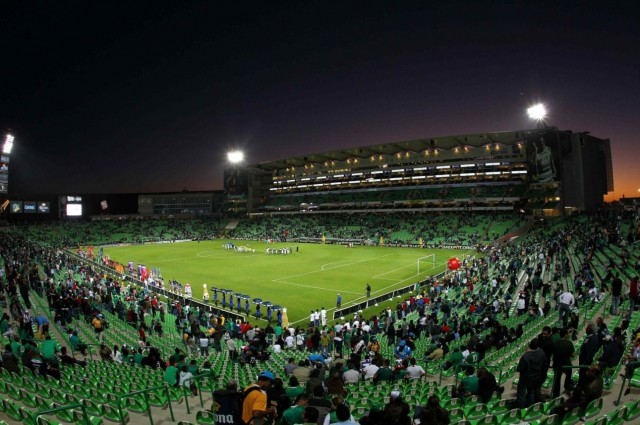 The America vs Santos Liga MX Week 10 match will take place on Friday, September 13, 2013 (7:30 PM Pacific) at the TSM in Torreon. This is probably the most attractive match of the week, as it features the red-hot Club America, and an always difficult Santos.
[divider] [/divider]
Update: Santos defeated America 2-1 and ended Club America's unbeaten run in the Liga MX.
[divider] [/divider]
Club America and Miguel Herrera appear to be unbeatable at the moment. America has won six out of the seven games it has played (the other match was a draw); Club America currently sits in first place with 19 points, two points ahead of Morelia, its closest follower. This is outstanding, considering America has played two less games than all other teams.
America's success is due to its prolific offense. America has scored 17 goals this season (2nd best in Liga MX), most importantly, nine different players have scored for the Azulcremas. Raul Jimenez is leading the scoring with four goals, this means, that the offense is well spread out, and not reliant on any particular player. A sign that America's offense is functioning very well.
The defense for the Mexico City based team has also been outstanding, allowing just five goals through seven matches. The defense will face a difficult challenge against Santos, as that team has the fifth best offense in the league, with 14 goals scored. Nonetheless, Club America has shown no signs of slowing down, and I find it unlikely that America will lose in Torreon.
Related News: Liga MX Standings & Liga MX Schedule
Caixinha led Santos to a very good season start, but his team has slowed down in the past three weeks. Santos has tied twice and lost once in the past three weeks, causing it to drop to 8th place in the standings with 13 points. Last week, Santos had a frustrating away draw against a struggling Atlas, a match they should have won. I see this as a sign that Santos is not playing at a high level.
If Santos wants to defeat the red-hot Club America, its leading goal scorer, Oribe Peralta, must have a good game. Peralta has scored six goals this season, accounting for nearly 50% of his team's offense. It will be interesting to see whether this week's debacle with the Mexican National Team has any sort of negative side effects on Peralta.
America vs Santos Prediction
Club America is an outstanding squad that is well coached by Miguel Herrera, the Azulcremas are looking to continue their remarkable streak. On the home side, we have a Santos squad that has been struggling lately, but Caixinha is an excellent coach that knows how to keep his players motivated. Expect a free-flowing game with plenty of scoring opportunities. In the end, I believe the match will end in a draw, Club America has been playing too well to be defeated. The America vs Santos match will end in a 1-1 draw. 
America vs Santos Television Schedule
The America vs Santos match will be televised this Friday, September 13, 2013 on Univision Deportes at 7:30 PM Pacific.