The Premier League's biggest rivalry will take place this Sunday, September 1, 2013 (5:30 AM Pacific) with the Liverpool vs Manchester United match at the Anfield Stadium.  'The Reds' and 'Red Devils' will play this Sunday in what will be one of the most anticipated matches early into the 2013-2014 season.  Liverpool arrives into the match after winning their first two matches, while Manchester United has won one and tied the other.
Liverpool played a great preseason in that they won all of their matches, while only losing one game.  What was most outstanding was that in those games they shutout their opponents in 5 of 7 games.  To start the season, the team coached by Brendan Rodgers has begun in the same good defensive form as they held Stoke City and Aston Villa to 1-0 scores.
The Reds have shown early into the season that they will play for the highest positions in the regular standings.  They have the defensive talent lead by Daniel Agger, while the offense has the ability to create great things under Luis Suarez and Daniel Sturridge.  Liverpool will play another defensive match against Manchester United, although they are confident that they have the best opportunity to defeat their arch rivals as they are in great form, and because they are the home team.
Manchester United has also shown good signs early into their season.  In their first match they defeated Swansea City 4-1, while last week they tied Chelsea 0-0 in a fierce match.  When coach David Moyes was with Everton, he faced their city rivals Liverpool for 11 years and was never able to obtain a win at Anfield.  Now with Manchester United, Moyes will attempt to end his negative streak, while he will also go for his first major win as coach of the Red Devils.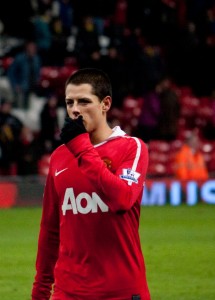 Manchester United will miss once again some key players due to injuries.  Rafael, Nani, and Javier 'Chicharito' Hernandez have all been absent early into the season, and against Liverpool they will be vital absentees.  Liverpool on the other hand will be without Aly Cissoko, Kolo Toure, and Joe Allen.
Liverpool vs Manchester United Prediction
The Liverpool vs Manchester United match is without any doubt the must-watch game of the week.  These teams represent Premier League elitism, and their rivalry is one of the greatest on the planet.  Sunday will have both managers style preventive systems, meaning they will focus more on the counter-attack in order to close the gaps on their back-line.
There are no favorites in this match, and a tie is the most anticipated score.  Liverpool has played wonderful on defense, but their offense has been slightly asleep.  Manchester United scored 4 against Swansea City, but against Chelsea they lacked offensive mentality.  Anything can happen in this match, but a tie will be the final score.  The Liverpool vs Manchester United match will end in a 1-1 score.
Liverpool vs Manchester United TV Schedule
The Liverpool vs Manchester United Premier League match will be televised this Sunday, September 1, 2013 on Telemundo and NBCSN at 5:30 AM Pacific.