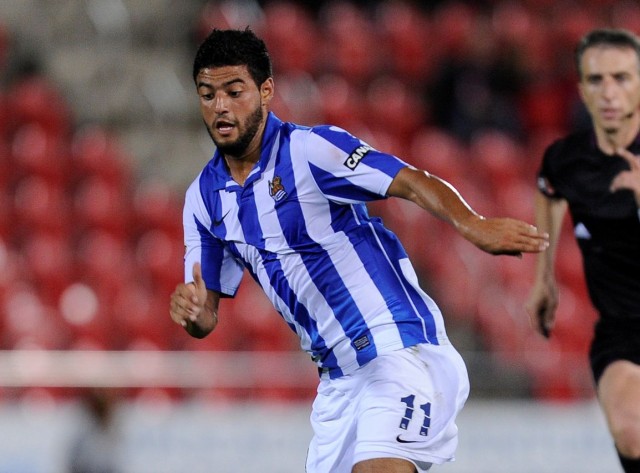 Mexican striker, Carlos Vela, had a phenomenal debut to the start of the 2013-2013 La Liga tournament.  In the Real Sociedad vs Getafe match, Vela was one of the best men on the pitch, always being involved on his team's attack; mostly through the right side of the field, while at times moving to the left.  The game which was played this Saturday, August 17, 2013, was a good sign of what the Mexican star will accomplish this season when his team will also participate in the Champions League.
The game at the Anoeta Stadium began with both teams on the attack with a more efficient Real Sociedad.  Real Sociedad's attack mostly travelled through the right side of the field under the guidance of Vela.  The Mexican striker was efficient in passing throughout the match, creating several goal scoring opportunities for his teammates.
It would be on the 42th minute when Vela scored his first goal of the campaign after a great counter-attack.  He was given a ball down the middle, which he controlled admirably in front of Getafe's goalie.  He then scored a majestic goal by chipping it over the goalkeeper.
After the first goal, the teams went to the lockers for the half-time, and when the 2nd half began, Real Sociedad was the clear superior team.  The team from San Sebastian controlled the sphere by pressuring the opponent's attack on every inch of the field.  In the 70th minute, Vela took a ball on the left side, which he then gave a nice pass to Swiss striker, Haris Seferovic.
Almost like the first goal, Seferovic made an outstanding goal by also chipping the ball over Getafe's goalkeeper.  The game would end in a 2-0 win for Real Sociedad, playing offensively and efficiently.  This win comes in great time just before their Champions League draw against Lyon during the week.
Enjoy Carlos Vela's goal and assist: