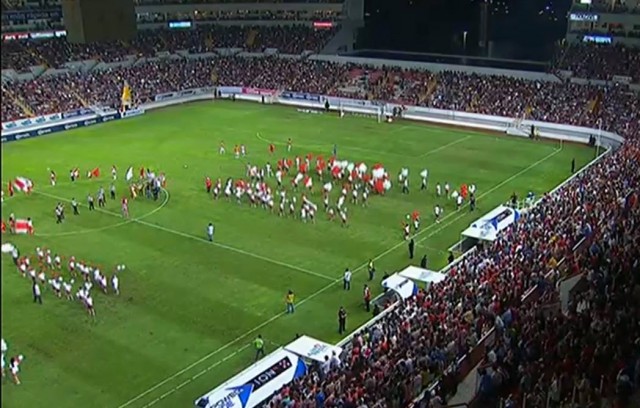 The Chivas vs Necaxa Copa MX match this Tuesday, July 23, 2013 ended in a 2-1 win for the 'Rebaño'.  In their first official match of the second semester, Chivas played a good match against a decent Ascenso MX rival.  Guadalajara was aggressive on offense, while the speed and youth of their offensive midfield lead by Carlos Fierro was the biggest game changer in their opening win.
The first half in the Chivas vs Necaxa Copa MX match was entertaining, yet it lacked a goal.  The game began with the Estadio Victoria in a great atmosphere as Necaxa celebrated their anniversary, and because the always hated-loved Chivas of Guadalajara was in town for an official match.  Throughout the first 45 minutes, both squads demonstrated their quickness to reach the upper-half of the field, yet both squads lagged concrete goal scoring techniques.  The first half was a 50-50 match where either side could have taken the lead.
The second half began with a more aggressive Chivas, who took advantage of Necaxa's weaknesses on defense.  Fifteen minutes into the second half, Patricio Araujo headed on a corner kick from Carlos Fierro. The central-midfielder was able to score the 1-0 by putting the ball on the goalie's bottom-left corner.
The play of the game came in the 78th minute when Chivas scored the 2-0 goal.  After a great dribble by Fierro on the left side, the young player passed it to the middle, when Miguel Sabah made a tunnel.  That left Giovani Hernadez alone, which allowed him to shoot it to the goalie's bottom-right post for the best goal of the night.  In the 84th minute, Necaxa scored the 2-1 goal, after a header by Eduardo Lillingston.  The two goal deficit was too much Necaxa, and Chivas earned their first victory in the Copa MX.
Overall, Tuesday's first half was entertaining, where the possession was split between both sides.  The second half was a completely different story.  Necaxa had some close encounters to the goal, but it was Chivas who dominated, and the one who was efficient in front of the goal.  The team from Guadalajara showed a little sign of how aggressive they will play in the Liga MX.  Tuesday's man of the match was Carlos Fierro, who played in the left, middle, and right offensive midfield.  With this 2-1 win, Chivas takes 1st place of Group 6 after the Copa MX's first round of games.