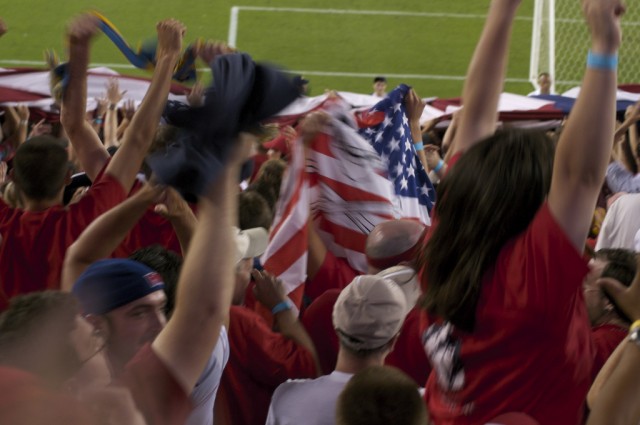 The USA vs Cuba Gold Cup match held at the Rio Tinto Stadium ended with a final score of 4-1 in favor of the USMNT. Although the USA dominated possession for the entire match, its offense wasn't as explosive as it was against Belize (pretty close though). Part of the reason might be that Klinsmann rotated in some players who didn't feature in the match against Belize.
The first half of the USA vs Cuba match ended with a bit of a shocking score, both teams entered the half time break tied 1-1. The USA was expected to cruise past Cuba as easily as it had defeated Belize (6-1 score), instead, Cuba shocked the fans in attendance by opening up the score.
The USMNT had dominated possession for the entire half, but a counterattack down the right flank in the 35th minute allowed Jose Pita to bang in a goal from a cross for the 1-0 Cuban lead. Edgar Castillo looked awful in the coverage and can be held at least partially responsible for the allowed goal.
However, Castillo would go on to redeem himself by creating a run inside the Cuban box, which resulted in him getting tripped and awarded a PK. Donovan would go on to convert the penalty and tie the score at 1-1 in the 45th minute.
Still dominating possession, the USA was able to finally take the lead in the 56th minute with a great shot from Joe Corona. Immediately after the goal, Klinsmann subbed in Wondolowski, the striker who had scored a hat-trick in the match against Belize.
Wondolowski was a huge addition to the USMNT, and was able to help create many scoring opportunities. He would go on and score in the 65th and 84th minute, adding the 3rd and 4th goals for the USA, and upping his own scoring tally in the Gold Cup to 5.
For Xolos Tijuana fans, it is interesting to note that Xolos players were involved in 3 out of the 4 goals scored by the USA (and the one goal scored by Cuba too, unfortunately). Landon Donovan converted a penalty kick that was awarded for a foul committed to Edgar Castillo inside the box. The second USA goal was a wonderful striker from Joe Corona. Finally, the 4th US goal was created from Edgar Castillo's assist to Wondolowski.
The USA vs Cuba match marked the first time 3 players from the same Liga MX club were starters with the USMNT (Xolos: Castillo, Corona, and Gomez).
With the 4-1 victory over Cuba, the USA has clinched a spot in the quarterfinals, and will face Costa Rica on Tuesday, July 16 for the first place spot in Group C. Cuba is essentially eliminated from the competition.
Enjoy more USA vs Cuba Highlights