The Confederations Cup 2013 will have its first semifinal with the Brazil vs Uruguay match this Wednesday, June 26, 2013 (12:00 PM PST) at the Estadio Mineirao in Belo Horizonte.  After an interesting group stage round, the semifinals will begin between two strong CONMEBOL nations who have not been strangers to international success in recent years.  Brazil qualified into the semifinals after finishing first in Group A with 9 points; Uruguay finished second in Group B with 6 points.
Playing in the semifinals marks another milestone for Uruguay in the past 4 years as in the 2010 World Cup they finished 4th place, while in 2011 they won the Copa America.  Brazil is in a good position to lengthen their Confederations Cup dominance if they were to defeat Uruguay on Wednesday.  Not only are they the nation with the most titles in this cup, but they have also won the past 2.  As hosts, and as one of two teams that won all of their 3 games in the group stage, Brazil has a good possibility of accessing yet another final which could lead to their third Confederations title.
The 'verde-amarelha' is ready to play in their third straight semifinal in this competition.  The team coached by Luis Felipe Scolari has played wonderfully in their first 3 matches with a Neymar in the attack who after each game seems more and more like a true super-star.  Meanwhile, the defense has not done so bad either as they shutout Japan and Mexico, while receiving 2 goals against Italy. Brazil has not surprised anyone for qualifying into the semifinals, but they have surprised a few in that they seem to have retaken the confidence which was lost when Mano Menezes was the coach.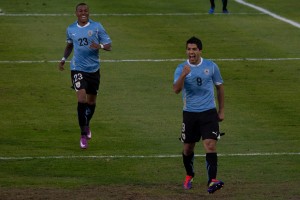 On the other side of the field will be Uruguay, who accessed into the semifinals even after a poor display in the loss against Spain in their first match.  The 'charruas' will have their toughest match in the competition by facing the tournament's host in front of 60,000 Brazilians.  For Uruguay, having Luis Suarez and Edinson Cavani in their best form will be incredibly crucial in their attempt to come victorious out of Belo Horizonte.  However, the most important key to a victory could be in the defense.  They will need to stop Brazil's offense who just scored 4 goals against Italy (and who has scored 9 overall) which is lead by Neymar.  Defender Diego Lugano will be a critical factor in preventing Neymar from any splendid display, and if he succeeds, Uruguay may take the road into the Maracana.
Brazil vs Uruguay Prediction
Brazil was a threat to others in the group stage; they had a powerful offense, the defense only allowed two goals, and obviously, the crowds were all in their favor.  Against Uruguay, they will need  these 3 factors if they want to qualify into their 3rd straight Confederations final.  The way Neymar plays in this match will be a crucial factor, as he has been the best player for Brazil thus far in the competition.  However, in front they face Uruguay who has played better after every match, and who has many starters fit as most reserves played in their last match against Tahiti.
The semifinal match will be an extraordinary contest between the two best South American competitors in recent times.  These two nations are filled with goal scoring talent, therefore it will be the best defense who wins the match.  The Brazil vs Uruguay match will end 1-0 in favor of the 'scratch do oro'. 
Brazil vs Uruguay Television
The Brazil vs Uruguay Confederations Cup semifinals match will be televised this Wednesday, June 26, 2013 on ESPN and Univision at 12:00 PM Pacific.