The Nigeria vs Uruguay Confederations Cup Group B match will take place on Thursday, June 20, 2013 (3:00 PM Pacific) at the Arena Fronte Nova in Salvador. With Tahiti as a pleasant distraction to the Cup, and Spain a huge favorite to win it all, it's clear that Nigeria and Uruguay are fighting for second place in Group B. To put it simply– the winner of this match will move on to the semifinals.
Nigeria arrived in Brazil with just 1 day to spare before Monday's match against Tahiti. Surprising no one, they ended up defeating the tiny Polynesian nation by a score of 6-1. Even though the Super Eagles scored six goals, they didn't look impressive, allowing Tahiti a couple of scoring opportunities, missing plenty of scoring chances themselves, and playing at an overall low level. The Super Eagles will need to show a vast improvement in the Nigeria vs Uruguay match, or they will be eliminated.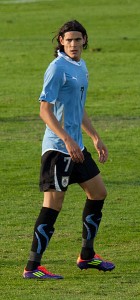 While Nigeria was playing a low-intensity game against Tahiti, Uruguay was getting tiki-taka'd by the Spaniards, who effectively dismantled the Uruguayans. Uruguay ended up losing 2-1 against Spain, forcing them to get points against Nigeria or be eliminated from the competition. Uruguay should perform better than it did against Spain, as the Nigerians don't use the short passing style that characterizes the Spanish squad.
Uruguay needs a good result against Nigeria not just for a spot in the semifinals, but for the overall improvement and momentum it would create for the World Cup qualification campaign. Uruguay has had a mediocre campaign, and is sitting in 5th place, 5 points behind Chile (4th). However, they still have 4 matches at hand, and a good run could place them in the automatic qualification spot, or at least assure them the Intercontinental Playoff that the 5th place spot provides. The Nigeria vs Uruguay match is more than just about the Confederations Cup, it could be just what this team needs to make a final push for the World Cup.
Nigeria vs Uruguay Prediction
Uruguay will focus on its defense, reducing the space available to the speedy Nigerian forwards, while hoping to score on a counterattack. Uruguay needs Suarez and Cavani to be on top of their game, without their two star players functioning at a high level, Uruguay has a slim chance of defeating Nigeria.
The Nigerians will play how they are accustomed to: fast. Nigeria will attack through the flanks, and rely on their powerful strikers to bang in a goal. Uruguay's defensive formation is likely to upset the Nigerian playing style though, the reduced space will compress the available field and nullify Nigeria's speedy players.
The Nigeria vs Uruguay match has "draw" written all over it. Both teams know that a loss eliminates them (well, Nigeria could lose against Uruguay and defeat Spain, not likely though), and won't risk too much going forward. They will seal a 1-1 draw that will leave the second spot of Group B undecided until the conclusion of Sunday's matches.
Nigeria vs Uruguay Television
The Nigeria vs Uruguay match will be televised on ESPN and Unimas on Thursday, June 20, 2013 at 3:00 PM Pacific.