The 'azzurra' is on the verge of accessing into the Confederations Cup semifinals if they win the Italy vs Japan match this Wednesday, June 19, 2013 (3:00 PM PST) at the Arena Pernambuco in Recife.  The Italian squad defeated Mexico 2-1 in their first match, putting them in a good position to qualify into the semifinals with another win on Wednesday night.  Japan on the other hand plays for their life, and are obliged to win after their 3-0 loss in the cup opener against the host Brazil.  After the first round of games, Italy is tied with Brazil in points with 3, where if both teams were to win again, they will qualify into the next round.
Italy arrives into Recife with good confidence and mood as in their first match in the Confederations Cup they demonstrated their good balance both offensively and defensively.  When they faced Mexico, the team was secure in the back, as their only mistake was a bad pass which lead to a penalty kick and Mexico's only goal.  Offensively, this team is capable of changing the direction of the game in the set-pieces under the touch of Andrea Pirlo.  Against Japan, they will face a quicker team than Mexico, but also a less tactical one.  On paper, they are the superior side, and going into the game with that confidence will allow them to exploit their style.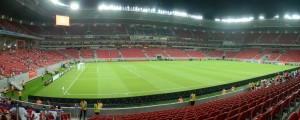 On Wednesday, Japan has the weaker talent, the weaker mood, and the weaker chance of qualifying into the next round than their adversary Italy.  However, they have one advantage and that is that their coach, Alberto Zaccheroni, is Italian and knows Italy's tactics to great detail.  That will allow Japan to plant specific tactics meant to disable Italy's schemes throughout the game.  If Japan is unable to obtain a point, that will be their end to their tournament.  A win means they will put everything on the line in the match against Mexico, while with a tie they leave their chances as 50-50.
Italy and Japan have faced each other twice, with Italy having the advantage with a win and a tie.  There is a good possibility both teams will have a full roster as Italian forward El Shaarawy returned to training after an injury.  With El Shaarawy back in the starting lineup, Gianccherini will return to the bench.
Italy vs Japan Prediction
Italy displayed on Sunday that they are not afraid to attack, especially when the opponent plays defensively.  When they face Japan, they will play against a system similar to the one Mexico used against them.  That will allow the azzurra to play freely on the upper side of the field, using their dynamic duo of Mario Balotelli and El Shaarawi to attack.
Japan was not powerful against Brazil, and they did not have much of an organization either.  On Wednesday, their defense will improve, but Italy will be too much to handle. The Italy vs Japan match will end 1-0 in favor of the Europeans.
Italy vs Japan Television
The Italy vs Japan Confederations Cup 2013 match will be televised this Wednesday, June 19, 2013 on ESPN and Unimas at 3:00 PM Pacific.