Mexico vs Italy Analysis: Mexico's first game in the 2013 Confederations Cup has resulted in a loss against a strong Italian side. Mario Balotelli's goal in the second half was enough to sink Mexico's hopes of making another comeback in the dying minutes. It was, in the second half, a one-sided match; however, in the first half, we saw a more determined Mexico that was up for the task at hand.
Before we discuss Mexico any further, Italy must be credited. Their defense was as solid as ever, Pirlo led their middle with authority, and they, more importantly, adjusted runs around the park accordingly as the match progressed. Additionally, Pirlo's brilliant goal must be acknowledged.   Many will be debating if Corona should have extended his arms in attempt to save the shot. Yes, it did seem as if he could have tipped the ball just over the bar, but he didn't and Corona may be regretting that he didn't.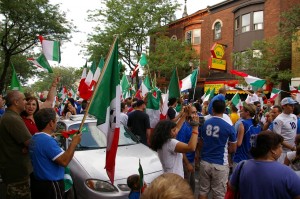 So, how did El Tri fare in the Mexico vs Italy match? Indeed, this game was a tale of two halves and needs to be viewed carefully because, while Mexico was a contending force in the first half, it can also be said they were non-existent for large portions of the second half as well.
Mexico vs Italy- The Good
Giovanni Dos Santos' constant pressuring up top was seen throughout the game. This is what Mexico has been lacking lately — somebody that is contesting the ball when the team does not have possession. It was his effort at contesting Barzagli in the first half that led to the penalty, thus leveling with Italy early in the match. Additionally, early in the first half, much of the middle and 'Chicharito' were pressuring Italy in their half; however, we saw that as the game progressed, Mexico's pressuring became more dull.
Mexico's middle of the park, with Torrado and Zavala as the central-midfielders, were more cohesive than in previous matches. Zavala, in particular, transitioned the flow of the game well, picked his passes precisely, and tracked back to help the defense on a number of occasions. We even saw Salcido in the beginning of the match come up to help Guardado on the left wing.
Mexico vs Italy- The Bad
Aquino's confidence was at a low against Italy and, as a result, hindered his ability to work his wing with any effective runs or any dangerous crosses. Too many times, when confronted, he wouldn't have the confidence to take his man or was out-bodied and resulted in turning the ball over to Italy. De la Torre didn't substitue Aquino until the fifty-third minute for Hiram Ricardo Mier and many will wonder if 'Chepo' should have opted with Barerra instead of Mier to replace Aquino.
Another one of Mexico's problems persisted against Italy — too many misplaced passes. All over the park, whether it'd be in the defense or in the middle, players would misplace easy passes. For example, Francisco Rodriguez, on three occasions, gave wayward passes. One in specific, led to Balotelli who intercepted the ball and in result, created an opportunity to score on Corona. In all honesty, much of El Tri's players were culprits of misplacing many simple passes. The inability to make easy passes was Mexico's problem in the second half, which allowed for Italy to retain possession and also a firm hold on the game.
Once again, 'Chepo' is on the hot seat after losing the Mexico vs Italy match. And although it isn't quite De la Torre's fault, his starting eleven and tactics were strong, much of the media will be conjuring up the headlines pertaining to 'Chepo's' future. Mexico's players, however, should be determined to get a result against their next opposition — Brazil. Mexico has had a great rivalry against Brazil in the recent decades and with the tournament taking place in their soil this year, Brazil will have the obvious advantage, in terms of support; however, don't count El Tri out just yet.