The two top ranked CONMEBOL nations, Argentina vs Colombia, are set to face off this Friday June 7, 2013 (3:05 PM PST) at El Estadio Monumental in Buenos Aires, Argentina. The game between Colombia and Argentina will be an exciting match up in which both teams will be looking to get one step closer to securing a spot in next years World Cup. With 5 games left Argentina is currently in 1st place with 24 points and they seem to be locked in to make yet another appearance in soccer's big stage. Colombia comes into this game sitting comfortably in 3rd place with 19 points and one less game played than Argentina. This World Cup qualifying game will feature some of game's brightest stars such as Lionel Messi (who will be coming back from his injury) and Radamel Falcao.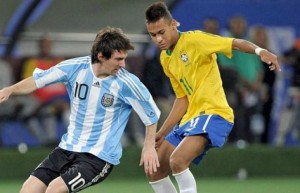 Argentina knows it will have its hands full when they face Colombia in tomorrow's matchup. The Argentinean national team bolsters an attack that is envied by almost all the nations in the world. With the likes of Lionel Messi, Gonzalo Higuain, Angelo DiMaria, Sergio Aguero, among others; their offense will certainly keep the Colombian defense on their heels. During the qualifiers Argentina has been the highest scoring team with 24 goals in favor, and they have been the 2nd best home team as well. What makes this interesting is that in the other side they will be facing off a Colombian team who has only allowed 7 goals during the qualifiers making them the best defensive team so far.  Colombia is also the best visiting team and they will need to play a great game in order to be able to put away another favorable result away from home.
The Argentina national team will look to continue its improvement on defense, as this has been their Achilles heel over the years. The arrival of coach Alejandro Sabella has been a huge boost to the Argentina defense. The world is  well aware of the attacking force that this nation provides but until their defense reaches a more elite level it will be hard for them to reach the ultimate goal of bringing back the World Cup trophy to Argentina. With 5 games left in the qualifiers the 'albiceleste' could be really close to punching in their ticket to the world cup with a win in this match.
One of the more interesting things to watch from this side will be how Messi plays after coming back from a hamstring injury. Not only will it be interesting to watch how he comes back from the injury but it will also be intriguing to see which Messi comes out to play for the national team; the one who goes back to make play for others or the attacking goal scoring machine that we see in Barcelona. The play from the Argentinean mid-field will probably dictate how far he comes back to get the ball.
Los Cafeteros have a defense that has been solid for years; their concern for many years was finding ways to put the ball behind the net. But with the rise of players such as Radamel Falcao and James Rodriguez, goals are now much easier to come by for the Colombian national team. Rodriguez will be the key offensive player in tomorrow's match against Argentina. He has become Colombia's playmaker in the midfield and he will need to be the one that makes sure that the fierce striker, Falcao, gets some golden opportunities to score. Another key will be how defender Yepes plays against Messi. Although Yepes was able to frustrate Messi for most of the game in their last game, Messi was still able to manufacture a goal late in the game that made people forget how horrid the rest of his night way.
Colombia iwill look to bounce back after a 1-0 loss in Venezuela after having beat Bolivia impressively by a
score of 5-0. In this game Colombia will probably be facing the greater pressure as this is a statement game for them. If they are able to win in Argentina it will show the world that they are a forced to be reckoned with and it will put them closer to getting back to the World Cup for the first time since 1998.
Argentina vs Colombia Prediction
Colombian fans until this day still have flashbacks to when they beat Argentina in their home 5-0. It's the worst home defeat Argentina has ever suffered and Colombia would love nothing more than to play another spectacular match like that one. Odds are that wont happen in this match but we could only hope we get a great show from these 2 teams. Argentina and Colombia will both look to leave it all out in the pitch tomorrow.
Higuain, who was not in the best of forms this season for Real Madrid, has continued to enjoy success with his national side and he currently leads all scorers in the CONMEBOL qualifiers. I think he will once again be key for the Argentina side and I believe he will score a goal with an assist from Messi in tomorrows match up. From the Colombian side we've yet to see much of Jackson Martinez who last season was transferred from the Mexican club Jaguares to Porto; a Portuguese powerhouse. Since joining Porto he has been in great form but Colombian coach Jose Pekerman has leaned on Teo Guitierrez who has provided great play for him thus far. I think Martinez will finally get his chance in the 2nd half of this game and I believe he will make an impact and score a goal to tie the game for the Colombians.
 My prediction is that the Colombia vs Argentina match will end in a 1-1 draw.
Argentina vs Colombia Television
The Argentina vs Colombia World Cup qualifying match will be televised this Friday, June 7, 2013 on beIn Sport at 3:00 PM Pacific.