'El Tri' is urged for a victory in the Mexico vs Jamaica World Cup Qualifiers match this Tuesday, June 4, 2013 (6:30 PM PST) at the Independence Park in Kingston.  Mexico and Jamaica are two teams which have a lot to play for when they meet on Tuesday night.  Currently, Mexico is 5th in the CONCACAF World Cup qualifying standings with 3 points, while Jamaica is in the last place 6th with only 2 points.  Although they are within reach of the 1st place Panama who has 5 points, a loss could push one of these two nations out of Brazil 2014.
The Mexican national team has a full squad ready to play against the difficult opponent of Jamaica.  The Giovani Dos Santos saga ended as the Mallorca star finally arrived late Sunday and practiced with the team.  It is still doubtful if he will start the game, but nonetheless Dos Santos has the last piece to Jose Manuel De La Torre's puzzle.  The 'tricolor' is in dire need to the 3 points as another loss or a tie will make the qualifiers into a nerve racking and intense experience.  A win against Jamaica could potentially place in 1st place, while anything else will still have them out of a World Cup position.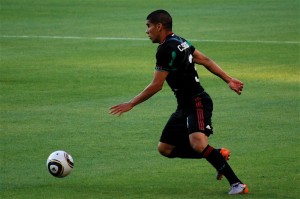 The reggae-boyz are ready to play their most difficult home game of the qualifiers.  After 3 matches Jamaica has 2 points after 1 loss and 2 ties.  They opened the Hexagonal in Mexico with an impressive 0-0 tie in the majestic Azteca stadium.  Since then, they have not been able to produce on offense as they have only scored 1 goal in their 3 games.  Like Mexico, Jamaica needs a win to maintain a fight in the qualifiers; although a tie against Mexico would not be bad by any means.  If the reggae-boyz were to win on Tuesday, they could potentially move up to 2nd place while a tie will keep them out of a World Cup seed.
Mexico vs Jamaica Prediction
Jamaica played predominantly well in their historic tie against Mexico in the Azteca stadium.  This is a well-formed team with good talent, and obtaining two consecutive positive scores against a group like Mexico's would be surprising and truly respectable.  The visiting 'tricolor' is desperate to score goals and maintain the dominance in a match.  They have not played terrible in their first three ties, however, they have lacked the offense necessary to show why they are the superior team in CONCACAF.
On Tuesday night, the Mexico vs Jamaica World Cup qualifying match will be a close contest between two teams that respect each other, and who are also aware of each other's power.  Jamaica will play a counter-attacking game like they did in the Azteca, however, Mexico will style a powerful attack with wingers Andres Guardado and Pablo Barrera.  It is time for Mexico to start making points, and they will begin doing that in Jamaica.  The Mexico vs Jamaica match will end 2-0 in favor of Mexico.
Mexico vs Jamaica Television
The Mexico vs Jamaica World Cup qualifying match will be televised this Tuesday, June 4, 2013 on Telemundo at 6:30 PM Pacific.